Bernard and Doris
(2007)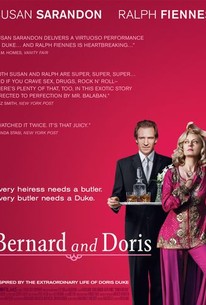 AUDIENCE SCORE
Critic Consensus: No consensus yet.
Movie Info
Director Bob Balaban's fictional drama presents a speculative exploration of the relationship shared between wealthy tobacco heiress Doris Duke (Susan Sarandon) and her Irish butler Bernard Lafferty (Ralph Finnes) who, after just six years working as Duke's servant, was posthumously awarded complete control of his former boss' multi-million dollar fortune. Serendipitously showing up on Duke's doorstep just after the temperamental grand dame has dismissed her previous butler, Lafferty immediately lands a job tending to her vast estate. Penniless and openly homosexual, Lafferty immediately began to ingratiate himself into every area of his new boss' life. And while outward appearances would suggest that the two had little in common, the butler's unwavering loyalty continually found Duke seeking his judgment despite frequent warnings from her friends and closest advisers. Later, when Duke died, her friends, family, and lawyers were shocked to discover that she had left Lafferty the lion's share of her vast fortune. While few but Duke and Lafferty will ever know what truly went on behind closed doors, Balaban and screenwriter Hugh Costello use the facts of their relationship as a springboard to exploring the bond between the woman who had it all, and the man who eventually inherited it from her. ~ Jason Buchanan, Rovi
Critic Reviews for Bernard and Doris
All Critics (3) | Top Critics (1) | Fresh (2) | Rotten (1)
This stunner of a movie is so far under the radar you'll have to go to HBO to find it. Get crackin'. It's the hip antidote to multiplex junk such as Mad Money and Meet the Spartans.
January 30, 2008 | Rating: 3.5/4

Bernard and Doris is a fun enough diversion, but it's wishy-washy and doesn't dig dive enough into comedy, tragedy, sympathy, suspense, or anything else to make it ultimately memorable.
Keeps sentimentality at a minimum, and takes its potential cliches (the rich hellraiser, the gay butler) and finds something fresh in them.
Audience Reviews for Bernard and Doris
½
[font=Century Gothic]Is it just me or was Ralph Fiennes born to play a butler which he does with aplomb in the enjoyable "Bernard and Doris" which might have been even better if done as a stage play? Partly based on fact, Bernard Lafferty(Ralph Fiennes), a butler, had previously been employed by the likes of Elizabeth Taylor and Peggy Lee but has been out of work for the past six months due to problems with alcohol. His car breaks down on the way to an interview with tobacco heiress Doris Duke(Susan Sarandon) who goes through butlers the same way some people go through chocolate. She quickly takes a liking to him, hiring him which allows him to confidently take charge of her large household. In point of fact, this would be the most important relationship of their lives, however platonic. It might be a cliche that Bernard is a sexless gay man(Doris more than makes up for Bernard, not to mention the state of New Jersey and most of Delaware), but there is a lot of repression to overcome which might also explain his alcoholism. Doris helps but not in a controlling fashion. As Bernard puts it, a butler lives in someone else's world constantly, and nobody's is as colorful as Doris' who does the most with what has been given her while also contributing generously to charities to make up for some of the blood money she inherited. In the end, she rejects the various spiritualities that she flirted with.[/font]
Extremely interesting bio-pic about Doris Duke (Susan Sarandon) and the relationship she developed with her butler, Bernard Lafferty (Ralph Fiennes). Both of them fought their demons but found someone to care about and for in this fictionalized account of their bond and how it may have developed. Brilliantly played by both actors, Ms Sarandon captured the neediness of Ms Duke and made her unreasonable demands and insatiable appetites wholly believable. Mr Fiennes played his role very low-keyed and seemed exactly right in it. One could see how the love and respect grew between these two people from completely different backgrounds. A tale of redemption and rehabilitation. She lived her life as she pleased and he lived his life in her world.
Mark Abell
Super Reviewer
I liked it. There are no real surprises but it's light, well-acted drama without being much of a downer. Not bad for a movie made for TV but HBO usually does better.
Sunil Jawahir
Super Reviewer
Bernard and Doris Quotes
There are no approved quotes yet for this movie.