College
(2008)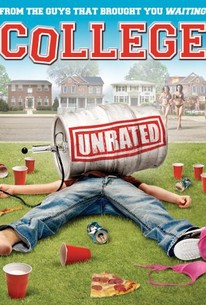 Movie Info
Deb Hagan directs this comedy set in the world of higher education and starring Drake Bell, Kevin Covais, and Andrew Caldwell as three high-school friends who take a weekend trip to nearby Fieldmont University as prospective college freshman in order to find out just how wild things can truly get on campus. Initially taken in as pledges at the most notorious fraternity on campus, Kevin, Morris, and Carter are subjected to humiliating series of pranks cooked up by womanizing frat president Teague (Nick Zano). Despite the fact that the three pals are forced to endure some of the most mortifying pranks ever committed against a fraternity pledge, in exchange for their suffering they are grated complete access to the rowdy party scene. Later emboldened after being mistaken for college freshmen by a trio of beautiful sorority girls, the three pals find any hopes for getting lucky dashed when -- upon realizing that the boys have finally managed to chat up some pretty girls -- Teague and his crew ramp up the intensity of their embarrassing initiation rituals and threaten to expose the boys' true educational status. But these scheming frat boys have underestimated the ingenuity of their high-school guests, and before the weekend is over Kevin, Morris, and Carter hatch a brilliant plan to turn the tables on their tormentors, win the girls, and destroy the fraternity once and for all. ~ Jason Buchanan, Rovi
News & Interviews for College
Critic Reviews for College
Audience Reviews for College
Came across this last night on TMC [The Movie Channel]. I forogt this movie even existed, but, I was bored so I decided to watch it. ISure, the movie has a couple laughs but this is the kind of movie you can compare to "Superbad". Welll....I really hated "Superbad" and I feel as if "College" has a little more to offer. "College" is more raunchy and disguesting, sometimes a little too disguesting, but overall, I'd still recommend this over "Superbad".
Corey Wood
Super Reviewer
Just saw this a couple of days ago at my cousin's house. This is apparently one of his favorite comedies, which now makes me question weather or not we are actually related! This is the lamest, dumbest, most obnoxiously poor excuse for a comedy I've seen since DATE MOVIE. What an insulting pile of dreck. I expected it to be bad... but not this bad. How did this get a theatrical release? It's just beyond me...
½
This film is hilarious to it's core, but it's plot sucks ass!
College Quotes
There are no approved quotes yet for this movie.