The Deal
(2003)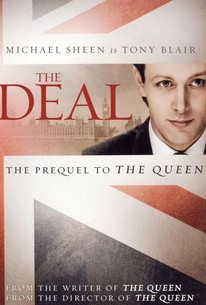 AUDIENCE SCORE
Critic Consensus: No consensus yet.
Movie Info
British director Stephen Frears' political docudrama The Deal was originally broadcast on Channel 4. The film is based on the real-life events that elevated Tony Blair to the seat of Prime Minister. The film shows how the hard-working, but not head-turning, Gordon Brown (David Morrissey) and the flashy Blair (Michael Sheen), two very opposite personalities, forged a working relationship while opposing Margaret Thatcher's government. When the Labor leader, John Smith, dies of a heart attack, on May 13, 1994, everyone believes Brown will ascend to the top of the party. But that isn't what happens. The film supposes what happened at a historic dinner meeting between Brown and Blair, at Islington, that led directly to Blair's appointment. This film is loosely based on The Rivals, written by James Naughtie.
News & Interviews for The Deal
Critic Reviews for The Deal
Audience Reviews for The Deal
½
[font=Century Gothic]Directed by Stephen Frears, "The Deal" is an illuminating and well-acted docudrama based on fact that questions the notion of the necessity of compromise in politics. The movie starts on a fateful day in 1994 as Gordon Brown(David Morrissey) is planning to meet future war criminal Tony Blair(Michael Sheen, who I have nothing against by the way) to discuss the leadership of the Labour Party. Brown is especially bristling at the fact that the meeting place is at an upscale restaurant in Islington on Blair's turf.[/font] [font=Century Gothic][/font] [font=Century Gothic]The central conflict of "The Deal" is one of class. In fact, even with Brown being from a working class home in Scotland and Blair having attended public school, the two ambitious politicians quickly bond in a shared cramped office, having both first been elected at the height of Margaret Thatcher's popularity after Great Britain beat the high holy snot out of Argentina in the Falklands War. Brown pays homage to Labour's core of workers while Blair(who is depicted as being an unctuous weasel) is tired of constantly losing to the Conservatives and wants to win at any cost. He gets his wish in the end. It is a shame because politics in any two party system is cyclical on a national level. The cycles vary depending on circumstances, economics and monumental screw-ups. For example, the Conservatives are about to take power back in the present day.[/font]
The Deal Quotes
There are no approved quotes yet for this movie.