Blood Creek
(2009)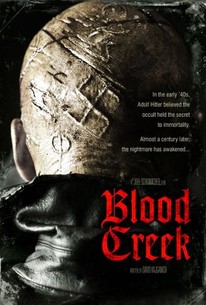 Movie Info
A man and his brother on a mission of revenge become trapped in a harrowing occult experiment dating back to the Third Reich.
Critic Reviews for Blood Creek
Audience Reviews for Blood Creek
Well, that was a little different. They definitely get points for originality. However, this movie suffers from having too many supernatural/occult/fantasy elements thrown in. The pacing is too quick, but it's plain obvious that the movie was edited down to reach that magical 90 minute mark. There were just too many--who was that? why does that happen? AND why the heck did Dominic Purcell look so great physically if he was their prisoner for 2 years? That last question plagued me throughout the film....
Cynthia S.
Super Reviewer
Joel Schumacher has had a checkered career as a director. However Schumacher is able to make good films. But lately he has made crap. The Number 23 though an interesting concept failed on many levels. Let's not talk about Batman & Robin. But Schumacher is able to make some awful films, yet after he makes bad films, he is able to redeem himself and make something watchable. I thought that Blood Creek would be a bad, independent film. I was wrong. The film though nothing great, is a good, entertaining film that will appeal to fans of who feel that the quality of good horror has dropped significantly in the last few years. Blood Creek is a low budget horror flick, but it's one that deserves more attention. Especially with the fact that studios are bent on remaking classic horror films. The film is good enough to appeal fans of horror and the acting isn't too bad. Blood Creek is a much better film than one might think. Considering it's Schumacher film, Blood Creek is a good attempt at a horror film, and as a diehard fan of horror films, Blood Creek is a film not to miss. Blood Creek is a film that will unfortunately find an audience by word of mouth and most likely be obscured by horror remakes. This is Joel Schumacher's best film along with Phone Booth and The Lost Boys. If you love horror, check this film out. Compared to the trash in the genre today, it's a far superior film.
An intensely bone-chilling and incredibly suspenseful edge of your seat thrill-machine of a horror film. It's just one purely awesome and exhilarating movie. It packs lost of bloody thrills, chills and scares from start to finish. A jaw-dropping and spine-tingling horror flick that delivers lots of twist and turns. A shocking, blood-thirsty and insane fun-house of terror. This is what an awesome horror film should be like. Dominic Purcell and Henry Cavill give strong and explosive performances. They give a great amount of depth and strength to their characters which is rare for this type of film. It's the most wickedly entertaining and original vampire movie I've seen since 30 Day's Of Night. A terrifying instant classic.
Blood Creek Quotes
There are no approved quotes yet for this movie.