Loaded
(2007)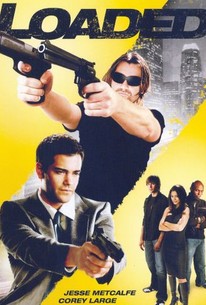 AUDIENCE SCORE
Critic Consensus: No consensus yet.
Movie Info
A privileged man with a profitable job, a beautiful girlfriend, and a loving family becomes hopelessly entangled with a vengeful drug dealer who assumes the role of his best friend before revealing his diabolical true colors. Tristan Price (Jesse Metcalfe) has a bright future, but when the shade begins to eclipse the sun, things turn bad more quickly than he could have ever anticipated. It seems that sometimes the most stable of folks are also the ones who crave adventure most, and Jesse is a prime example of that penchant. When Jesse meets up with charismatic cocaine dealer Sebastian Cole (Corey Large), the allure of fast cars, fast women, and automatic weapons find the thrill-seeking everyman suddenly drawn into a dangerous world of sex, drugs, and violence. But Jesse's new best friend is also his new worst enemy, and if he has any hope of pulling out of his current tailspin and salvaging relationship with his faithful girlfriend (Monica Keena) he will have to confront the man that could take it all away with the lightening flash of a finger on the trigger.
Critic Reviews for Loaded
There are no critic reviews yet for Loaded. Keep checking Rotten Tomatoes for updates!
Audience Reviews for Loaded
½
Fairly decent film which isn't entirely original or well acted but the young cast do OK to keep you interested (especially the girls hehe). There are some reasonably nice sequences with fights, guns and cars to satisfy the brain but 'Lethal Weapon' this ain't. Vinnie Jones has a surprisingly good little cameo as a drug kingpin utilizing his gruff cockney accent against the over tanned bleached teeth of the youthful cast. He is the only person to add a touch of danger and realism, kinda.
Phil Hubbs
Super Reviewer
Despite its cast of relative unknowns, performances were good all around
Roy Gutteridge
Super Reviewer
decent flick, some weak performances...and it kind of stupid at times but it had a nice twist.
Chosen 718
Super Reviewer
Loaded Quotes
There are no approved quotes yet for this movie.