Storm Warning
(2007)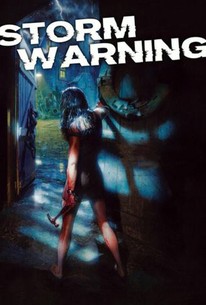 AUDIENCE SCORE
Critic Consensus: No consensus yet.
Movie Info
A romantic weekend on the water turns into a terrifying struggle for survival when bad weather drives a vacationing couple into an isolated swamp in Urban Legend director Jamie Blanks' tense tale of terror down under. Forced to steer their sailboat to the nearest shore when a storm rolls in and the waters grow treacherous, a young couple has no idea of the depravity they will soon be forced to endure. Shortly after docking their sailboat on a remote island, the stranded pair is captured by a psychotic man and his two demented sons. As the storm gathers ferocity, the couple fights against being sexually enslaved and brutalized to the breaking point. But these maniacs don't have a clue how hard their prisoners are willing to fight in order to stay alive, and as the tables are turned the violence escalates into a visceral explosion of savagery and terror.
Critic Reviews for Storm Warning
Audience Reviews for Storm Warning
½
[img]http://images.rottentomatoes.com/images/user/icons/icon14.gif[/img] Storm Warning is nothing less than a perfectly above average exploitation film. It's something that gives it's audience just what they would expect from it and gets the job done perfectly. There was a lot of talent pitched in to make this film. Particularly Everett De Roche, one of the pioneers of Ausie exploitation horror who wrote Roadgames and Razorback, and also Long Weekend and it's remake. Which coincidentally shares the same director Storm Warning has, Jamie Blanks. He does his absolute best with the nuts and bolts plot and the budget he is given and crafts a solid and enjoyable gorefest for horror fans and non-horror fans. The film shifts from atmospheric to wildly bloody to great effect and boasts a talented unknown cast who take the script seriously enough to make a very tense low-budget thriller. It's effective finale is really worth waiting for, and the setup itself draws inspiration from various other classic pieces of work such as The Hills Have Eyes and The Texas Chainsaw Massacre. Having said that it can't argue that it's original and it certainly can't grasp any subtext beneath the wince-inducing gore, but overall if you like Ausploitation, your going to love Storm Warning, it's incredibly ruthless, and even more so insanely under rated.
Directors Cat
Super Reviewer
A pretty good low budget horror from the makers of Wolf Creek. In the vein of the Texas chainsaw massacre. A young couple lost after a trip out on a small boat seek out some shelter only to come across some very odd rural folk. Slow start but a bloody and tense ending make up for it.
½
This Film is put out by Dimension Extreme and Resolution Independent, one can always count on them to put out a pretty gory film, this is no exception. This movie also won the 2007 Screamfest Special Makeup Award, and after viewing One can see why. Excellent bloody scenes in the last 20 minutes. This is about a couple who get lost while fishing in Australia and like West Virginia, The Deep South and even the Out Skirts of NYC, they run into 3 Bad fellas that want this couple for more then just house guess. Filled with Suspense. If you like Blood guts and horror and a good film to entertain the crowd on a Cold wet stormy night this is it. 4 1/2 Stars
Bruce Bruce
Super Reviewer
Storm Warning Quotes
There are no approved quotes yet for this movie.