Scenes of a Sexual Nature
(2006)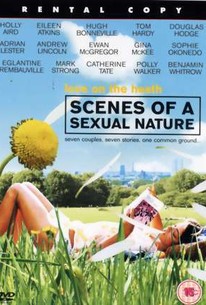 Scenes of a Sexual Nature Photos
Movie Info
A handful of couples discuss their romantic and erotic tribulations on a sunny afternoon in this romantic comedy drama. It's a beautiful day in London, and a number of people head out to Hampstead Heath Park to enjoy the weather, though not every couple on hand is as comfortable as the weather might suggest. Julia (Gina McKee) and Gerry (Hugh Bonneville) are having a picnic as part of a blind date, but they don't seem to be enjoying one another's company. Billy (Ewan McGregor) and Brian (Douglas Hodge) are a gay couple at a crossroads -- Billy wants to settle down and adopt a child, but Brian doesn't believe this will stop his partner's chronic infidelity. Iris (Eileen Atkins) and Eddie (Benjamin Whitrow) were an item many years ago, but aren't sure what to make of one another when they meet by chance in the park. Sara (Catherine Tate) and Pete (Adrian Lester) discover how much they care for one another just as they're on the verge of divorce. Jamie (Andrew Lincoln) finds he has some explaining to do when his wife Molly (Holly Aird) catches him ogling a pretty young woman (Eglantine Rembauville) who is inadvertently exposing her underwear. Ludo (Nick Sidi) and Anna (Sophie Okonedo) are a couple whose romance doesn't seem fated to live out the day. And Noel (Tom Hardy) is a lecherous sort who is looking for a woman as interested in sex as he is. Scenes of a Sexual Nature was the first feature film from director Edward Blum; the picture was shot on a shoestring budget, with the actors being paid union scale in exchange for a share of the film's profits. ~ Mark Deming, Rovi
Critic Reviews for Scenes of a Sexual Nature
Audience Reviews for Scenes of a Sexual Nature
½
Not an awful lot to this film. Anyone looking for something titilating based on the title will be sorely disappointed, and so will anyone who expects a good story where something actually happens!!! It's not so much that it is a bad movie as that it is all terribly bland.
Nicki Marie
Super Reviewer
½
Not bad. Interesting relationships, and I like how none of them turned out the way you thought they would.
Curtis Lilly
Super Reviewer
½
This whole movie takes place in a British park. We (the camera) flits from park bench to bench to blanket to hill, listening in on various couples' conversations. It reminded me of "Love Actually", but there are no real connections between the couples. I enjoyed the movie, but I didn't rate it that highly as it felt like seven non-related vignettes. There is no sex in it by the way - the nudity rating is for a bare bum. Most of the vignettes are a little depressing. The vignette that troubled me the most was Louis and Esther's.
Scenes of a Sexual Nature Quotes
There are no approved quotes yet for this movie.