The Initiation of Sarah
(2006)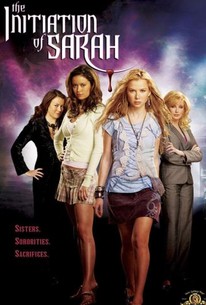 AUDIENCE SCORE
Critic Consensus: No consensus yet.
The Initiation of Sarah Photos
Movie Info
A pretty college student with mysterious supernatural powers become caught up in an ancient battle between good and evil in the ABC Family Original Movie remake of the 1978 cult classic. Sarah (Mika Boorem) and her twin sister Lindsey (Summer Glau) have always been at odds over Sarah's unexplainable telekinetic powers, but now that the two siblings have enrolled in Temple Hill University they're determined to focus on the future and forget about the past. While at first college life is everything that Sarah and Lindsey ever hoped it would be, their higher education soon grows complicated when both sisters are invited to pledge Alpha Nu Gamma and Pi Epsilon Delta: Temple Hill's oldest and most bitter rivals. Now, before they even take their first midterms, Sarah and Lindsey will be thrust into an ancient battle between good and evil that threatens to consume the entire campus. As the ongoing battle between darkness and light stretches into another semester, Sarah will struggle to master her powers and one sister will be faced with the most difficult decision of her life. Betrayal abounds and danger awaits on the dreaded campus of Temple Hill University.
Critic Reviews for The Initiation of Sarah
Audience Reviews for The Initiation of Sarah
Really bad. One of the worst movies I've watched on Lifetime.
Erin Collins
Super Reviewer
½
Stuart Gillard's The Initiation of Sarah is a made for TV film that is a remake of the 1978 movie with the same name. So it is a remake and it is made for TV. That doesn't sound like a great combination.
Although it is made for TV, this film is put together fairly well and it is passable for a movie that has gone to the theater. With that said, the story isn't spectacular and it is pretty much what one would expect from a film like this. 2 sorority houses try to recruit a college student who appears to be "the chosen one." For the most part, the film goes back and forth as the two sides work on recruiting this student. It isn't funny, it isn't scary, and it isn't exciting. It is just OK at best.
There are a few effects, which are quite good. There is room for more, especially when it involves women with supernatural powers. As for the violence, it is minimal and not bloody or gory at all. Remember, this is made for television.
The actresses are pretty, but the acting isn't anything special. Both the lead, Mika Boorem, and Summer Glau are just average. Jennifer Tilly's role matches her nicely and that is probably why she turns out good. Joanna Garcia puts on a decent performance as well.
The Initiation of Sarah does have a few positives, but this is probably still one to skip.
½
I actually liked this film. Not the best in the world, but watchable.
Timothy O'Brien
Super Reviewer
The Initiation of Sarah Quotes
There are no approved quotes yet for this movie.