Believers
(2007)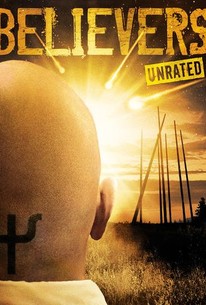 AUDIENCE SCORE
Critic Consensus: No consensus yet.
Movie Info
Filmmaker Daniel Myrick, the codirector of the cult classic "The Blair Witch Project," works his dark magic on this gripping, unrated psycho-thriller. Johnny Messner and Jon Huertas play paramedics who are kidnapped and brainwashed by a doomsday cult that believes mass suicide is the path to the promised land. Marty Papazian, Daniel Benzali, Elizabeth Bogush, Saige Ryan Campbell, Deanna Russo, Cullen G. Chambers, Carolyn Hennesy.
Critic Reviews for Believers
All Critics (3) | Fresh (0) | Rotten (3) | DVD (2)
One can't help but think this C-minus movie would have made for a B-plus episode of Masters of Horror, with just a few trims here and there.
The conflict and struggles of the main characters devolve into cliche swearing at their captors.
The way to eternal life is through sex, electric shock, and staying out of the light. Who'da thunk?
Audience Reviews for Believers
½
Two paramedics David Vaughn (Johnny Messner) and Victor (Jon Huertas) receive an emergency call from a little girl Libby (Saige Ryan Campbell). When they arrive on the scene, they find the woman, almost dead, and her young daughter immediately warns the paramedics to hurry up because "they are coming." Anyhow, they no sooner attempt to revive the dying woman than a truckload of cultists armed with guns show up and kidnap them but not before they notice that the woman has numbers tattooed all over her chest. But the night is yet to become stranger when they take them back to their compound run by members of a strange sect Quanta Group, composed of scientists, philosophers and mathematicians. These people believe they have condensed the secrets of time and the universe into a mathematical formula and foresee the end of the world after a meteor shower. Their leader The Teacher (Daniel Benzali) converts Vic to his cult, but the reluctant David resists and tries to escape to from the cult with the help of Libby. Will he succeed in saving his friend before it's too late? The movie has its fair share of flaws but what captured my attention was issues of destiny and its attainment, religion versus science, power of suggestion and gullibility are highlighted (comparisons with Jonestown are obvious), enabling the viewer to evaluate and ponder just how easily you can get into caught up in the beliefs of a cult.
½
Well, the acting was ok except for the main star of the movie, god what a terrible actor! The story and the "mystery" was what actually kept me watching, it.. kinda messes with your head actually, itll make you think. Too bad they screwed up the casting for this, wouldve been quite okish.
This movie made a believer out of me. I now believe this movie sucks. BURN!
Christopher Brown
Super Reviewer
Believers Quotes
There are no approved quotes yet for this movie.