Caged
(1950)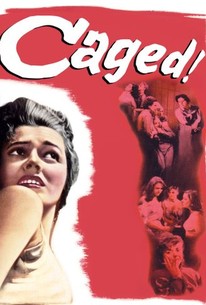 AUDIENCE SCORE
Critic Consensus: No consensus yet.
Movie Info
Eleanor Parker plays a naive young woman who helps her no-good husband in a robbery. Parker is sentenced to prison, where, despite the compassionate efforts of warden Agnes Moorehead, she is subjected to the cruelties of Amazonian matron Hope Emerson. The new prisoner's only "friend" on the inside is shoplifter Betty Garde, who teaches Parker all the tricks of her profession, hoping to recruit the girl as an accomplice upon release. Reeling from the twin tragedies of her husband's death and her miscarriage, Parker becomes as hard and cynical as her cellmates. Paroled, she faces an uncertain future on the Outside, as the warden observes resignedly that the girl will be back behind bars before long. Far superior to the general run of "women in prison" epics, Caged avoids such pitfalls as a happy ending or cliched characterizations. Eleanor Parker might well have been an Oscar contender for Caged had it not been for a powerhouse 1950 nominee lineup including Bette Davis, Judy Holliday and Gloria Swanson.
Critic Reviews for Caged
All Critics (2) | Fresh (1) | Rotten (1)
Deemed harsh in 1950, Cromwell's melodrama about women in prison has lost its edge but the acting of Agnes Moorehead and Hope Emerson, as a monstrously facist matron, is good; the film still offers valuable lesson about how life in prison makes criminals
Ranked as the best women-in-prison film ever made, but even if this is so it still doesn't make it very good.
Audience Reviews for Caged
At the beginning of this film, a naïve 19 year old woman (Eleanor Parker) enters prison for being with her husband when he committed a robbery. It's apparent from the outset that she's a good person who got a tough break, but soon she's subjected to a demeaning search, and then in the general population. The other prisoners, led by a 'queen bee' (Betty Garde) size her up quickly as a nice person, and look out for her, although Garde also begins trying to recruit her into a career of shoplifting for when she gets paroled. As the film plays out, there are some aspects that seem unlikely, e.g. the woman breaking down after only three days of solitary confinement, and the warden entering the prison area behind bars fearlessly, quelling a riot by simply shouting "Stop it!" There is also a bit of toughness missing, with little real threat from other prisoners, who all seem relatively decent in spite of some of the crimes they've committed. Aspects like drug use were censored, and there isn't any diversity either. For a good part of the film, I confess that even though I knew it was well made, it didn't really engage me. On the other hand, the film delivers on its critiques of the prison system, including exposing the politics of punishing people, when what's good for society is rehabilitation, but the public sees inmates as animals in a zoo. It also shows the corruption and cruelty that come with power over others. The visuals are stark and pretty realistic looking, and the dialogue is snappy. Hope Emerson turns in a great performance as the prison matron who takes matters into her own hands to mete out extra punishment, as well as run a corrupt racket on the side. Parker is strong too, evolving from a shy nice girl to a hardened prisoner. Both would get Oscar nominations, and they were deserved. I also liked Jan Sterling as 'Smoochie', the C.P., or common prostitute, who starts many lines with 'I got news for you.' Overall the film's message is one advocating prison reform, that excessive toughness on prisoners is not only inhumane but produces the wrong result, and that extra resources ought to be put into things like education. Agnes Moorehead as the prison warden advocates these things, and is a nice counterpoint to Emerson's character. The balance in the prisoners is probably stilted a little too much to general decency, we just don't see any serious depravity here. There is one big moment that is an exception, but even then it seems justified. One can see why the combination of these things had prison wardens upset all over the country when the film was released. I liked how the film explored some of the causes behind women's crimes, including the role of men in their lives, and abusive men in particular. At the same time, it doesn't make excuses. Ultimately Parker's character has a choice, emphasized by an old inmate (wonderfully played by 79-year-old Gertrude Hoffmann), who gives her some sage advice: "Before you get any bright ideas, listen to me. I had a first time like you, but I can't remember how long ago. Then the second rap, then the third. Now I'm a lifer. I'll be 71 soon. Been a con 40 years, and you know what I think? Nobody got cheated but me. Forty years taken away. So I'm giving it to you straight. Wait a year on dead time, but get a legit job slinging hash. Then, get a good guy, have a kid. What I'd give for a sink full of dirty dishes." This is a movie that may sneak up on you, and it has a very strong, powerful ending, one which nudged my review score up.
Antonius Block
Super Reviewer
½
Good stuff as we are taken to a tour of the real hard time, the cooler, the slammer, the joint, behind bars with ... well, a pretty okay collection of ladies considering. Even the repeat offenders seem tame in this offering. Only the head matron in this is bad news, her sadistic ways making your girls-next-door tougher than hydraulic jackhammers. A depiction of what's it like inside that'll seem dated, though still good to watch and that without the expected shower rape scenes.
Kevin M. Williams
Super Reviewer
If The Big House is the grandpa of prison movies, then Caged is the grandma... or maybe the wicked stepmother. One of the best prison movies I've seen. Supposedly based on true incidents taken from a diary written in prison, albeit by an author who was in prison for research rather than a rap. Eleanor Parker deserved her Best Actress nom as the naive 19 year old girl who gets hard lessons about life while in jail as an accessory to armed robbery. Her transformation from innocent kid to hardened criminal was astounding. Hope Emerson's 6'2" prison matron, who believed prisoners should be treated like animals in cages, was brutal and hateful, leading directly to Parker's downfall. The downer ending I believe added to the film rather than dragged it down. Movies with such a large female cast (only two men that I can recall) don't normally have this dark a tone. No matter how you feel about prisons and prisoners, you need to see this. A first-class job from all involved.
Caged Quotes
There are no approved quotes yet for this movie.