Familia
(2005)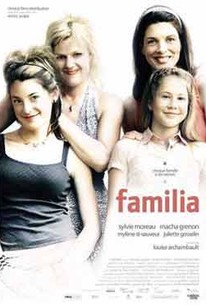 Movie Info
Michele, a divorced aerobics instructor with a gambling addiction, loses her job and seeks refuge with a childhood friend, Janine, who lives in a seemingly comfortable middle-class suburban neighborhood. Michele's rebellious teenage daughter, Marguerite, and Janine's shy and reserved daughter, Gabrielle, become friends, leading to unforeseen tensions that force both generations to reassess their values.
Critic Reviews for Familia
Audience Reviews for Familia
½
This French-Canadian film tells a largely depressing tale of three families, with tenuous connections, that are slowly unraveling. Michelle (Sylvie Moreau), a woman with a gambling addiction, and her out-of-control teenage daughter, Marguerite (Mylene St.-Sauveur) move in with a friend, Janine Macha Grenon), and her daughter, Gabrielle (Juliette Gosselin), son, and frequently absent husband. Conflicts ensue and finally spiral out of control, and both women find their worlds falling apart. Add in a young woman, Kate (Emily Holmes) that Janine befriends with what are finally revealed as ulterior motives and a recipe for disaster is in place. Terrific acting by all of the principles. The story wears a patina of gloom throughout, and the camera angles convey a sense of claustrophobia that emphasized that Michelle is facing ever fewer viable options. There are scenes of mild depravity as a result of her desperation that are tastefully handled. This was not a fun film to watch, by any means, but the quality of the production kept the viewer engaged. A couple of holes in the plot that may have been due to over-zealous editing, and plot twists that could be seen from a mile off detracted only slightly from the experience. The ending left one hopeful that life would go on, just not as originally configured.
Mark Abell
Super Reviewer
½
I usually hate movies made in quebec but surprisingly i loved this one... the ties between two mothers and their own daughters is quite appelaing in this movie where you have diametrically opposite characters with diff. values, morals and lifestyles. I loved it! This is definitely a tear-jerker for those sensitive at heart.
½
A family drama that focus on two women and their daughters as their lives come crashing down around them. They may have thrown one to many issues into this film but overall a realistic look at how quickly your life can come crashing down around you. Also shows how destructive men/boys can be to womens' lives.
FanGirl Browncoat
Super Reviewer
Familia Quotes
There are no approved quotes yet for this movie.