Lars and the Real Girl
(2007)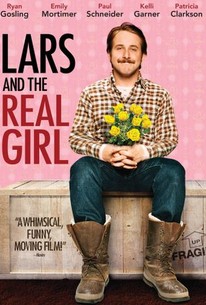 TOMATOMETER
AUDIENCE SCORE
Critic Consensus: Lars and the Real Girl could've so easily been a one-joke movie. But the talented cast, a great script, and direction never condescends to its character or the audience.
Lars and the Real Girl Photos
Movie Info
Lars Lindstrom is a loveable introvert whose emotional baggage has kept him from fully embracing life. After years of what is almost solitude, he invites Bianca, a friend he met on the internet to visit him. He introduces Bianca to his brother Gus and his wife Karen, and they are stunned. They don't know what to say to Lars or Bianca--because she is a life-size doll, not a real person and he is treating her as though she is alive. They consult the family doctor Dagmar who explains this is a delusion he's created--for what reason she doesn't yet know but they should all go along with it. What follows is an emotional journey for Lars and the people around him.
News & Interviews for Lars and the Real Girl
Critic Reviews for Lars and the Real Girl
Audience Reviews for Lars and the Real Girl
½
This wonderful film could have so easily been made into a silly comedy but is fortunately instead a bittersweet drama that relies on a captivating performance by the always talented Ryan Gosling, who gives life to a sensitive character that never seems less than real.
Carlos Magalhães
Super Reviewer
This is a sly and yet oh so whimsical film about love, loneliness, and the human condition. At its heart it's about one person's long journey from secluded loner to acknowledged friend. The premise surrounds Lars, a man who basically gives up the house he inherited to his brother and his pregnant wife to start their family and goes and lives out in the back shed. He is quiet, contemplative, and obviously mournful of his parents, especially his mother who died when he was young. He is reclusive, and somewhat antisocial, but it's obvious that his family cares about him, that his co-worker likes him, and that he is not ready to advance in the world with so much grief stored up. Enter Bianca, who Lars christens as his girlfriend, and who he brings everywhere with him. The catch is that Bianca is a sex doll, one that is very expensive at that, and Lars follows the delusion that she is real by insisting that she is paraplegic, unable to dress herself or really take care of herself. He goes through the delusion, and everyone around him has to indulge in order for him to move on with his life, including his entire church, his family, and friends and co-workers. The film remains quirky the entire way through, but it is very heartbreaking. As he begins to go through the stages towards acceptance he begins to lose interest in his polyurethane friend and invents barriers between the two of them. As the film unfurls you realize the depths of his own awkward isolation. Not only that but because of his lingering adoration for an inanimate object, and the emotional impact attached to it, everyone around him slowly realizes just how deep and scarred he really is, and that makes everyone adore him all the more. The relationships that are built from his attachment to the doll are really the most important aspect of the film as a whole. Besides being quite off-beat, this film tells a lot about grieving, and a lot about how we deal with the extreme losses in our lives.
Spencer S.
Super Reviewer
This concept could have bombed in many ways. How do you compellingly film a relationship involving a synthetic, inanimate being? "Cast Away" did it with a volleyball, but the script didn't have to arrange Tom Hanks' character introducing Wilson to his coworkers and loved ones. Absurdity and compassion mix in just the right portions here, gently showing examples on how to be a person. The story progression is tidy, but out of necessity, not laziness or shallowness. The characters have depth and intrigue and are all likeable. I wasn't at all ready to leave any of them.
Matthew Slaven
Super Reviewer
Lars and the Real Girl Quotes
There are no approved quotes yet for this movie.