Fail Safe
(2000)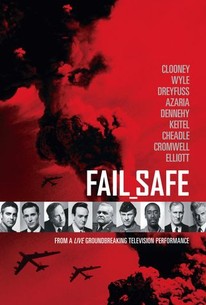 Movie Info
A seemingly-minor electronic error sets the world on the verge of nuclear annihilation in this made-for-TV adaptation of the novel by Eugene Burdick and Harvey Wheeler (which was previously filmed in 1964). Due to the burn-out of a piece of circuitry, a computer orders a U.S. Air Force jet on a strategic bombing raid, destroying targets in Russia with nuclear weapons. As Generals Bogan (Brian Dennehy) and Black (Harvey Keitel) desperately search for a way to recall the planes once the mistake has been discovered, the bomber's commander, Col. Grady (George Clooney) sets out on his mission with grim determination, while the President (Richard Dreyfuss) and his translator (Noah Wyle) stay in contact with the Soviet premier, trying to convince him that this was all a terrible mistake. Fail Safe was first presented as a live television broadcast which aired on CBS on April 9, 2000. The supporting cast includes Hank Azaria, Don Cheadle, James Cromwell, and Sam Elliott. Star George Clooney spearheaded the unique project and served as executive producer.
Critic Reviews for Fail Safe
Audience Reviews for Fail Safe
½
For all intents and purposes, a live TV version of Sidney Lumet's classic cold war thriller. A great cast even if some of the casting decisions leave you scratching your head. (Hank Azaria in the Walter Matthau role?) For the most part, the TV version copies the film version verbatim with the exception of George Clooney and Don Cheadle trying to add a little social relevence and a serious dumbing down of Azaria's/Matthau's role. A great companion to the original even if it doesn't quite touch it.
Michael Gildea
Super Reviewer
Fail Safe Quotes
There are no approved quotes yet for this movie.