Fred Claus
(2007)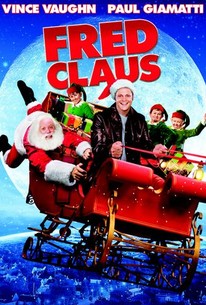 TOMATOMETER
AUDIENCE SCORE
Critic Consensus: A slew of talent is wasted in this contrived and overly sentimental Christmas film, which can't quite get the balance between slapstick humor and schmaltzy uplift.
Movie Info
Fred Claus has lived almost his entire life in his little brother's very large shadow. Fred tried, but he could never live up to the example set by the younger Nicholas, who was just a perfect, well, Saint. True to form, Nicholas grew up to be the model of giving, while Fred became the polar opposite: a repo man who then steals what he repossesses. Now Fred's dirty dealings have landed him in jail. Over Mrs. Claus's objections, Nicholas agrees to bail his big brother out on one condition: that he come to the North Pole and work off his debt making toys. The trouble is that Fred isn't exactly elf material and, with Christmas fast approaching, this one bad seed could jeopardize the jolliest holiday of the year. Has Fred finally pushed his little brother to the brink? This time, what Fred may have stolen is Christmas itself, and it is going to take more than Rudolph to set things right.
News & Interviews for Fred Claus
Critic Reviews for Fred Claus
Audience Reviews for Fred Claus
Great film, probably the best Xmas movie for years. It works mainly because of Vaughn and his deadpan, sarcastic deliveries and being an average Joe in his forties. It makes you feel good not because of the Xmas factor but because Vaughn makes you feel happy and comfortable about being an average Joe. The everyman who has to put up with life's crap just like the normal folk outside Hollywood. Spacey and Giamatti are also very good in their roles as expected. It does look and play out like ALL other Xmas films but a slight twist on the plot, a few neat visual gags and some good verbal make all the difference. The legal side with Spacey is quite special but the sloppy ending almost spoils it...but its a nice flick.
Phil Hubbs
Super Reviewer
Not the funniest film ever but it does make you feel like you need to be more tolerant of your family and help them out during the holidays. Something to get you in the mood.
Sophie Burgess
Super Reviewer
This is not a jolly film, its funny for a while and then becomes very dark and creepy, but had a great moral that some kids aren't bad, mayb ethey just didn't have a fair childhood and it wan't their fault, and they shouldn't be discriminated from any other kids.
Jim Careter
Super Reviewer
Fred Claus Quotes
There are no approved quotes yet for this movie.