Heartstopper
(2006)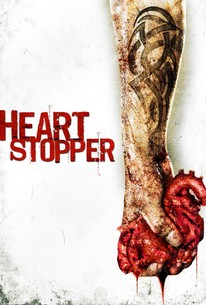 AUDIENCE SCORE
Critic Consensus: No consensus yet.
Movie Info
When a notorious serial killer is strapped into the electric chair and blasted with 10,000 volts, the invigorating jolt merely heightens his already insatiable bloodlust in this gruesome, hospital-bound shocker featuring horror icon Robert Englund. Chambers (James Binkley) has inflicted some of the most horrific atrocities ever documented on his fellow man, and now it's Sheriff Berger (Englund)'s job to ensure that Chambers never again has the opportunity to torment and terrorize society. It was supposed to be a routine execution, and neither Sheriff Berger nor the doomed patients of the hospital where Chamber's charred corpse was taken could have foreseen the horror that awaited them. When Chambers escapes from the morgue and sets out on a bloody rampage in the locked-down hospital, it's up to Sheriff Berger, petrified patients Sara Wexler (Meredith Henderson) and Walter (Nathan Stephenson), and the brave Nurse Grafton (Laura DeCarteret) to put a permanent end to Chamber's brutal reign of bloodshed. A deadly dose of electricity has transformed Chambers into much more than your average madman, though, and with each new victim his supernatural abilities only seem to grow. After dispatching with Sheriff Berger, it becomes increasingly obvious that the killer shares an unholy bond with hospital patient Sara. Now, with time running out and no place to run, Sara and Walter must learn to defeat an otherworldly evil before it grows too powerful to destroy.
Critic Reviews for Heartstopper
Audience Reviews for Heartstopper
Average horror about a mental let loose in a hospital. Some killer dude seems to be genuinely evil, like, has powers sent from hell evil. So when he escapes inside a hosptal where he was put after being executed all types of shit starts happening. Although Heartstopper runs along at a decent pace its nothing we haven't seen before and none of the protagonists are that likeable; the main girl appears to be a bit of a slag and the guy that helps her out seems to be a twat! Other than that, theres an appearance from Robert Englund which is probably its only real selling point.
½
Confusing plot, predictable progression and fail acting.
Sylvester Kuo
Super Reviewer
The worst movie I have seen in quite awhile with a laughable storyline where some serial killer comes back to life possessed by a demon during some tornado emergency at some hospital. Lots of blood, little sense, no acting.
Sean Scobie
Super Reviewer
Heartstopper Quotes
There are no approved quotes yet for this movie.