Rest Stop
(2006)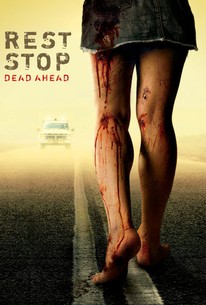 Movie Info
The Hollywood dreams of two runaway lovers are suddenly transformed into living nightmares when a momentary pause at an abandoned roadside rest stop turns into a struggle for survival against a predator who sadism knows no boundaries in this tense nail-biter from X-Files writer and executive producer John Shiban. The west coast was a long way off, and when Jess and Nichole decided to stretch their legs at a deserted rest stop they could never have anticipated the terror that awaited them. Now Jess has disappeared, and a savage stranger with a penchant for cruel games has turned up in her place. This is no coincidence, however, and before the day is over Nichole will be forced to fight for her life against a murderous maniac whose creative use of power tools will have her screaming for mercy.
Critic Reviews for Rest Stop
Audience Reviews for Rest Stop
½
Rest Stop has gotten a lot of flack and I can see why. However the film is not the worst horror film that I've seen. The film is a borderline decent horror film with a cool concept. Of course the film is not the best, but it's not the worst either. The acting is so-so but what makes this film worth seeing is the villain. I thought the pickup driver was a good enough villain and really in the current climate of horror, Rest Stop is definitely not the worst film. The film is original, and pretty intense. But at times I'll admit that there was a few parts that were cheesy and could have been better. Rest Stop is nothing truly great, but it's still entertaining enough to keep one interested. The film is not that bad, there is worst horror films out there. Rest Stop is a blood soaked film with enough juicy bits the thrills horror fans. But before watching this, go in with moderate expectations and you may not be disappointed. An entertaining but flawed film, Rest Stop is a decent horrifying ride that has a good concept, but you can clearly see it's limitations on screen. I'd say that this film is good for what it is, and thats a B movie with decent scares. The villain, like I said, made up for it's minimilastic script and mediocre acting from the main actress. For it's flaws, this film is a pretty decent effort, even id it's nothing too spectacular.
This film makes no sense. I'll give it one star for the sniffing, because that was seriously creepy.
vieras esine
Super Reviewer
½
One of the most ridiculous pieces of gutter trash i've ever seen, it's a disgrace to American Horror. The only redeeming quality was the fact that you get to see Joey Lawrence tortured beyond belief. First he gets hit by a pick-up truck, then gets his legs run over by the same truck, drug into a bathroom and mercy shot in the face. Just when you think it's over, he's still alive and says "You Missed!". Then he is shot more accurately in the face and dies.
Conner Rainwater
Super Reviewer
Rest Stop Quotes
There are no approved quotes yet for this movie.