Land of the Blind
(2006)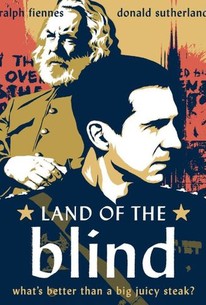 Movie Info
The debut film by director Robert Edwards, Land of the Blind, is a political satire starring Ralph Fiennes as a military man who helps overthrow his government. He does so at the urging of a political prisoner, played by Donald Sutherland, who has been outspoken about the corruption of the current regime. The soldier learns that corruption may in fact be an inevitable part of having power. Set in an unnamed country without ever giving indication of a specific time period, the allegorical film had its North American debut at the 2006 Tribeca Film Festival.
Critic Reviews for Land of the Blind
Audience Reviews for Land of the Blind
Land of the Blind I picked up this film not knowing anything about it. Found it in a pawn shop for $3.00 it was worth that. I like most of the movies that Donald Sutherland stars in, but this one was a little different and nothing he did stood out. Its about a political Prisoner who spent years being beaten, starved, and trying to control his mind, A guard played by Ralph Fiennes helps him escape. After escaping Sutherland overthrown the government of one Maximilian II by killing him and his beautiful wife ( Think I would have kept her around, sure she would have seen things my way with a little persuasion). After being in charge awhile the people are no better off under Sutherlands Leadership as they were under Maximilian's matter fact things are worst (Sound Familiar kind of like Iraq). Fiennes is now the one in prison (retraining camp) at the end of the movie, telling the story. Movie didn't do much for me, but I am sure there will be some who swear by it. 3 Stars from My Mind.
Bruce Bruce
Super Reviewer
[font=Century Gothic]"Land of the Blind" takes place in an unnamed country where Maximillian II(Tom Hollander) is President for Life, having succeeded his father who ruled with an iron fist. The son is a bit of a dimwit, albeit a dangerous, sadistic film-obsessed one who takes after his father in the jailing, torturing and killing of dissidents department. One such dissident is former playwright, John Thorne(Donald Sutherland), who is leading a prison protest by not wearing prison uniforms and decorating his jail cell in a lovely shade of feces.(And also writing relevant quotations on the walls in the same material, too.) A young prison guard, Joe(Ralph Fiennes), takes a liking to the prisoner and strikes up the odd conversation...[/font] [font=Century Gothic]"Land of the Blind" is an intelligent, witty, cheaply made movie about propaganda and the need to think for oneself. It also serves as a commentary on government. The movie is unabashedly pro-democracy and in not just giving lip service to the idea, either. A government is at its most dangerous when only one person is in charge. When that happens, their ideas can become reality, no matter how idiotic or dangerous they may seem. With a democracy, many different opinions are given and heard, thus hopefully giving the people a better voice in their own government.(As an anarchist, I am not fond of the idea of government in any form.) [/font]
Land of the Blind Quotes
There are no approved quotes yet for this movie.