Emperor of the North Pole (Emperor of the North)
(1973)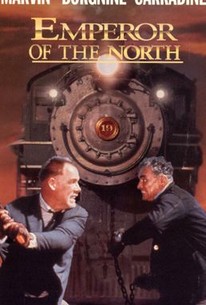 Movie Info
In this gritty and violent period drama set in the depths of the Great Depression, Lee Marvin stars as "A No. 1", the acknowledged King of the Hoboes. A No. 1 is famous among his fellow tramps for his ability to catch a ride on any train, no matter how risky the hop or dangerous the guards. He acts as a sort of mentor for Cigaret (Keith Carradine), a young hobo who brags that some day he'll surpass A No. 1 in his accomplishments. But neither has had the courage to ride a train guarded by Shack (Ernest Borgnine), an unusually sadistic railroad cop who will brutally beat or even murder any man who tries to catch a ride on his train. A No. 1 is determined that no one, not even Cigaret, is going to deny him his title, so taking his life in his hands, he and Cigaret hop a ride on Shack's train, and they are soon bearing the full brunt of his violent nature. Emperor of the North features superb location photography by Joseph F. Biroc and a fine supporting cast, including Charles Tyner, Simon Oakland, Elisha Cook Jr., and Sid Haig.
Critic Reviews for Emperor of the North Pole (Emperor of the North)
Audience Reviews for Emperor of the North Pole (Emperor of the North)
I watched this movie because of Lance Henriksen (from Millennium (TV series), I'm trying to watch all his films and this is one of the first he was in that can be obtained. This film is one of the unsung gems of the seventies, part adventure film, part social drama, part road movie. Set during the depression when riding the rails was a way of life for desperate men (and women), the film follows three characters - Lee Marvin, as Number One, a legend among the grizzled hobos congregating along the rail lines; Ernest Borgnine as Shack, the sadistic conductor perfectly willing to do whatever necessary to keep free loaders off his trains; and a young Keith Carradine as Two-Bit, a novice full of bluster and false bravado out to make a name for himself. Marvin takes the kid under his wing; their relationship is part adversarial, as the weary elder tries to educate the fool how to survive on the line. Looming in the background is Borgnine, out to do his job at any cost. Ultimately a wager is made, and Marvin will put his life on the line to best Borgnine and show he is the Emperor of the North. At times it's a very brutal film - the final confrontation between Marvin & Borgnine is one of the toughest, nastiest fights ever photographed - but it is splendidly made and endlessly fascinating. 4 Stars 8-5-13
Bruce Bruce
Super Reviewer
Well executed drama with a terrific cast, directed by Richard Aldrich who helmed The Dirty Dozen and The Flight of the Phoenix, Emperor of the North Pole is a wonderful film that is a classic film. With a terrific cast, director Robert Aldrich crafts an entertaining drama\ that is set during the Great Depression, and tells the story of two hobos who hop trains. One of the hobos, A No. 1 is famous among his peers for riding any train despite the dangers he may encounter. A younger hobo, Cigaret wants to ride with A No. 1 and break his legacy as the most legendary Hobo to ride the tracks. However he's scared of a sadistic train guard by the name of shack. Emperor of the North Pole is a terrific film that is entertaining from start to finish, and there are plenty of wonderful performances as well by its cast. Brilliant filmmaking and acting, this is a film that should be seen by serious film fans, and it tells a simple, yet compelling story that relies on powerful acting and a great script to thrill the viewers. The film has minimal flaws, and there's plenty to enjoy here, and the cast, especially Ernest Borgnine and Lee Marvin make this a riveting drama that still is terrific to watch even today. Aldrich's directing is effective and he is able to craft such a simple story with a big score, and that's what you have here with Emperor of the North Pole. This is an enjoyable, violent, well acted film that is a classic of American cinema.
½
Ever since my dad first told me about this movie, and fond memories he had of seeing it when it came out (and wanting to see it again), I too became very interested and determined to see it. This may be a period piece set in Oregon during the Great Depression, but it's definitely a 70s film through and through. It's a tough, violent, and gritty story about survival, masculinity, and trying to do what one can to make it in an unforgiving world. It's 1933, and train conductor Shack is a cruel, sadistic man who is hell bent on keeping anyone off his train if they aren't a paying customer. It's desperate times for the railroad, so he is forced to do what he can to keep hobos from freeloading. Even then, his actions go to an extreme, and he's a real force of nature that will not listen to reason or change his ways. On the opposite end of the spectrum is A No. 1, a legend among hobos for being great at not getting kicked off trains. All of the hobos know and hate Shack, so when A No. 1 vows to take him on, ride his train and earn the right to be called the Emperor of the North Pole (a god among men, essentially), bets are placed, the news is spread, and the game is on, starting with a series of pranks and tricks, but ending in a spectacular finish as Shack's train barrels towards Portland. That's the basic premise, and it is simple, but deceptively so. Ypu could take this film at face value, but there's really more to it than that, and this is more than just a B-action movie. Complicating things is the arrival of Cigaret, a young, inexperienced, and immature bum who is not very smart, and foolishly tries to beat A No. 1 to the punch. Oddly enough, A No. 1 takes the kid under his wing (begrudgingly) and tries to teach him how to be a proper bum, but the upstart does more harm than good, but it makes for more drama, and adds to the story. This film has some moments of humor, and despite the music being rather folksy and contrasting to the events, this is a grim and serious movie. I don't think it's a full fledged horror movie, but I can see how one might look at it that way, similar to No Country for Old Men. The film appears to be rather simple and one dimensional, with the characters seeming one dimesntional, but that's not true at all. This film, I think, is rather smart. The script is economic, and the director doesn't spoonfeed the audience. Yeah, Shack seems very one note in his determination, but if one considers the historical context, his actions become a bit more justifiable. Same goes for the hobos. They are desperate to make a living too, and they are forced to hop the rails. It's not like they do it for kicks (well, to a degree). This film does a great job up being really morally ambiguous, and not painting either side as being truly right or wrong. That's not to say the characters are unlikeable though. In that regard, this is definitely a product of its time. Like I said above, it's a period piece, but it's got all the hallmarks of being made during the 1970s. The acting is great. Ernest Borgnine is a real mean S.O.B. as Shack, and his demented grin as he beats people off of his train with a hammer is chilling and unforgettable. It's awesome seeing him go toe to toe with Marvin, who brings a great sense of weariness and experience to the role of A No. 1. He's a sly one, and, despite not being a saint, he deserves his chance to do what he has to in order to make the grim situation of the Depression more tolerable. Keith Carradine is also good as Cigaret, despite the fact that his character is more of an annoyance, and he's almost as irritating as Shack. The music is good, and the location shooting and cinematography are top notch, but it's Robert Aldrich's direction that really makes this a gripping and suspenseful film. From the series of pranks and stunts that are done to ruin Shack professionally throguh the scenes of A No. 1 trying to educate Cigaret all the way to the big final confrontation aboard the moving train, this film is fileld with energy, tension, and the world being presented really comes alive in all of its unsavory detail. This is an ugly mess of a world, but it's hard to look away. I'm rather bummed out that this isn't a more well known or appreciated film. It's far better than Ebert gave it credit for. I think he just missed the point. This is a film that is not to be missed. Also, for an alternate, and better take on this film, please see the review written on here by LittleMissBloodAndGuts. Thank you, and have a great day.
Chris Weber
Super Reviewer
Emperor of the North Pole (Emperor of the North) Quotes
There are no approved quotes yet for this movie.