Glory Road
(2006)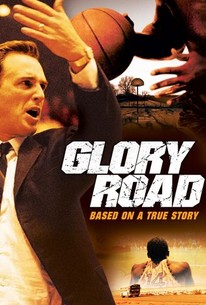 Movie Info
The inspiring true story of the underdog Texas Western basketball team, with history's first all African American starting lineup of players, who took the country by storm, surprisingly winning the 1966 NCAA tournament title. Josh Lucas stars as Hall of Famer Don Haskins, the passionately dedicated college basketball coach that changed the history of basketball with his team's victory in this time of innocence.
News & Interviews for Glory Road
Critic Reviews for Glory Road
Audience Reviews for Glory Road
Glory Road is a pretty good sports drama, yet it uses all the usual clichés to tell its story. That's the thing I noticed with every sports films, no matter what story kit is, no matter how they spin it, it always ends up feeling like the same old film. I'm not saying that this is a bad film; however I do think that every sports drama navigates the usual territory that every other film in the genre tends to go through. The story is good, and the cast do a good job in their roles. The film works well enough to be an entertaining drama, but it is also flawed. I liked the film, but to be honest, I never really was a big Basketball all fan, so I simply view this one as a watchable, but quite forgettable sports drama. For what it is, it's an entertaining film, but it's no different than other film in this genre. The cast are good in their roles, and Josh Lucas delivers a performance that saves this film from being a total disappointment. Though a good film, this isn't a film I would rewatch again. I simply felt that it relied too much on the traditional clichés established in previous sports dramas that came before it. Though a worthy film to watch, Glory Road doesn't stand out. I enjoyed it for what it was, but felt it was missing something to really make it stand out. For me anyways, one of the best sports dramas that tried something totally new was Moneyball. Glory Road isn't a revolutionary film, but it's entertaining to say the least.
½
Cliche, yes but a good cliche type of movie. Descent to good acting and a great story make for a good sports film here.
Eric Alvarez
Super Reviewer
Beyond the excellence of sports movies and Josh Lucas never ceases to amazes me in movies and the lives of the other basketball stories are inspiring as well :)
Cassie Hill
Super Reviewer
Glory Road Quotes
There are no approved quotes yet for this movie.