Izo
(2004)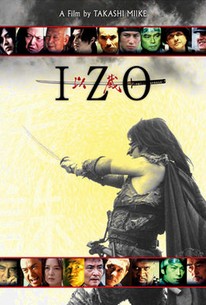 AUDIENCE SCORE
Critic Consensus: No consensus yet.
Movie Info
Izo, an assassin attempting to kill the Shogun, is captured and crucified in 1865 Japan. His fury propels him through space and time to modern day Tokyo, where he begins exacting bloody revenge on the heirs of the Shogun. This in turn angers the Lords of the Universe, who raise an army of both Samurai and Yakuza to defeat Izo.
Critic Reviews for Izo
All Critics (6) | Fresh (2) | Rotten (4) | DVD (2)
... if you're a fan of Takashi Miike, and want to see where his filmic experiments have been leading him, then Izo is not to be missed.
...all but the most blindly loyal Miike fans will find sitting through this distended and monotonous film an ordeal.
Audience Reviews for Izo
A nihilistic/budhist approach to film conventions and genres. Izo is a destructive force that seeks peace by doing the only thing he was good at. Miike deconstructs movie mechanisms to the point of exposing how pointless they are. Action sequences go to the point of the excess, taking away anything "exciting" about them. Some of the most important actors in the history of japanese cinema appear barely 5 minutes, then get killed. You could say Izo is not only unleashing his rage to the world, but also over the movie industry. The more people dismiss this movie in Miike's body of work the more it becomes relevant and alive.
Tsubaki Sanjuro
Super Reviewer
½
One of the weirdest films every produced and also one of the hardest to watch. There was a lot of greatness in this film. I really liked the school scene where Izo cuts down the mothers, but this film was just far too repetitive. It's basically a guy being defiant and killing everyone. It also has a lot of deep philosophical musings, but for me the gore and violence was just too strong to let the deeper themes through. Something tells me this was never meant to be enjoyed as normal films are which is both one of it's pluses and one of it's negatives. Certainly worth checking out, but you may need a few sittings to get through it.
Luke Baldock
Super Reviewer
½
Miike himself has described the movie as a mantra, a way of exploring the same basic idea through various facets of meaning. Most movies are merely concerned with a contrived plot, a way of hustling a bunch of characters along to a happy or sad ending. Izo is not about a plot, but it has a story, one which neither ever really began nor ended, so a linear plot would not serve its intentions. We see pieces of various parts of his life linking up and creating drama that fuel the films' forward momentum, much as Izo's anger sends him hurtling forward again and again towards...what? The further Izo goes, the more he becomes a monster of instinct, and the more nihilistic his fury becomes, not because he kills, but because he no longer has any element of choice
El Hombre Invisible
Super Reviewer
Izo Quotes
There are no approved quotes yet for this movie.