Stealth
(2005)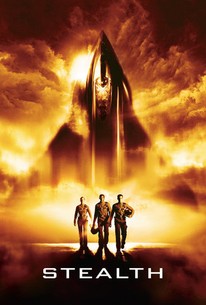 Movie Info
A squadron of elite pilots embarks on a mission of global consequence to neutralize and out-of-control prototype drone fighter plane equipped with artificial intelligence and the ability to precipitate a nuclear war.
News & Interviews for Stealth
Critic Reviews for Stealth
Audience Reviews for Stealth
This is movie is about 3 Navy pilots who are introduced to a computerised fighter technology. Good cast but plot and special effects were average.
Candy Rose
Super Reviewer
½
Nothing special with some adequate action sequences. Full review later.
Thomas Bowler
Super Reviewer
½
A computer controlled hi-tec fighter plane goes haywire and decides to take matters into its own hands and bomb Russia without orders. The Fast And The Furious director Rob Cohen's formula of frenetic action and laughably bad writing takes to the air in this CGI infested update of Top Gun. An aeronautical version of KITT from Knight Rider goes wrong, and then stops going wrong for no particular reason to gang up with some pretty people and find an excuse to to blow the crap out of unknown, faceless "terrorists" and North Koreans (for reasons that are far from obvious). The characters are the usual collection of gung ho cartoons, with Jamie Foxx seemingly standing in for Cuba Gooding Jr as a particularly painful black stereotype and the plot is a load of comic strip nonsense that's no more than an excuse for a series of shaky cammed firework displays. Having said all that, like TFATF it's mildly entertaining in an utterly brainless kind of way and if you're in a alcohol induced semi-vegetative state as I was, it passes the time. Just have some mildly lecherous thoughts about Biel/Lucas depending on taste and try not to think about it; the script writer obviously didn't.
Stealth Quotes
There are no approved quotes yet for this movie.