Moog
(2004)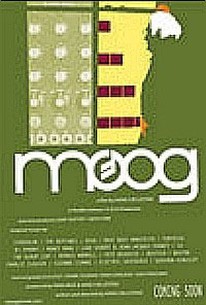 Movie Info
This feature documentary film explores the life of Bob Moog, who has been inventing and building electronic musical instruments for nearly half a century. It explores Moog's collaborations with musicians over the years as well as his ideas about creativity, design, interactivity and spirituality. It also features appearances by Keith Emerson, Walter Sear, Gershon Kinsgley, Jean-Jacques Perrey and Luke Vibert, Rick Wakeman, DJ Spooky, Herb Deutsch, Bernie Worrell, Pamelia Kurstin, Tino Corp. with Charlie Clouser, Money Mark, and Mix Master Mike. Vintage films, borrowed from private collections, round out this stylized, wonderfully strange story of a true American maverick.
Audience Reviews for Moog
As someone who loves his piano and old Juno-60, I was highly interested in this film's subject matter. But what a disappointment. This film isn't sure whether to be a portrait of Robert Moog or a history of his products, and it fails on both counts. Little chronology of the important Moog artists and albums. Little sense of the Moog keyboard's evolution through the years. Not even much sense of how different knobs and plugs affect the keyboard's output. And the showcased artists seem somewhat arbitrary, as if it was just a case of including those who were easiest to book. I mean, really, if you can't get Wendy Carlos to appear in your Moog documentary, maybe it would be best to just scrap the project. And the climactic scene of Moog playing "Old Man River" on Theremin is wonderful, but it's preceded by a segment on other Theremin players which comes off totally out of sequence (this is a *pre*-synthesizer instrument, after all). Meanwhile, we twiddle our fingers as Moog putters around his garden and kitchen, plays video games in Tokyo and offers cosmic philosophizing on the relationship between musician and instrument which simply isn't too compelling. Note the film's short length -- it *feels* short.
Eric Broome
Super Reviewer
Moog Quotes
There are no approved quotes yet for this movie.