Hide and Seek
(2005)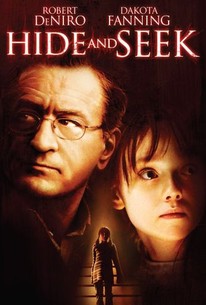 TOMATOMETER
AUDIENCE SCORE
Critic Consensus: Robert De Niro and especially Dakota Fanning have earned some praise for their work in Hide and Seek, but critics have called the rest of the film derivative, illogical and somewhat silly.
Movie Info
"Come out, come out, wherever you are!" That command is familiar to everyone who has played the children's game, Hide and Seek. The words and game take us back to an innocent carefree time in our lives, where the simple goal was to find hiding playmates. Many children could even enjoy a spirited game with imaginary friends. But then, imaginary friends can sometimes seem so real...for young Emily Callaway, her games of Hide and Seek with an imaginary friend named Charlie have become anything but simple and innocent. Instead, she finds herself in the middle of a series of increasingly nightmarish acts that even her father David cannot stop. Who--or what--is Charlie? David wonders. How can an "imaginary" entity have this kind of hold on her? Maybe Charlie is not imaginary at all, but instead a flesh-and-blood, malevolent presence?
News & Interviews for Hide and Seek
Critic Reviews for Hide and Seek
Audience Reviews for Hide and Seek
Not bad little thriller let down by a dingy twist at the end. Dakota is a little understated here, but can see why by the end. Not the best movie ever, but enjoyed it.
Nicki Marie
Super Reviewer
Hide and Seek is a predictable and mediocre thriller that not even the good performances by Robert De Niro and Dakota Fanning can salvage. The film had a good idea, but it quickly falls apart, and becomes a tired film that tries too hard to deliver the thrills. For me, a good thriller film has got to be effortless in delivering a top-notch story that keeps you on the edge of your seat. Though Hide and Seek starts off good enough to keep you interested, the director doesn't know where to take this story and give us, the viewer an exciting climax. Hide and Seek is simply a mediocre thriller that doesn't try to thrill you. This film is quite uninspired with an ineffective overused formula to create its thrills and tension. What's really surprising is that the good cast that director John Polson directs can't save the film from being a dud. I felt that the film started off well enough, but then it ventured into too similar territory of ideas that have been explored in previous films. I felt that the overused, cliché elements killed this film, and made it quite boring. A good cast is wasted here, and there's nothing going on that really kept me interested in this film. I didn't like the film, and felt it was very mediocre, and this is the perfect example of how a movie that uses old clichéd ideas to create a "new" thriller can turn out, it turns bad. Hide and Seek is boring, uninspired and dull. What could have been a good film is ruined by a bad script and overused ideas.
Unexpected twists and exceptional performances. Creepy and cleverly written. A must see!
Bethany Murphy
Super Reviewer
Hide and Seek Quotes
There are no approved quotes yet for this movie.