Dead Birds
(2004)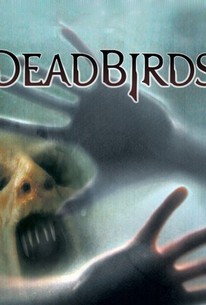 Movie Info
A handful of thieves discover they have more to worry about than the law in this independent horror story, set during the Civil War. William (Henry Thomas) is the leader of a group of runaway Confederate soldiers who, with the help of an escaped slave and an Army nurse, stage a daring robbery at a bank holding a cache of rebel gold. The heist does not go smoothly, and William's associates soon fall into in-fighting as they head toward Mexico with their stolen fortune. Needing a place to rest for the night, the criminals set up camp in a mansion overlooking an abandoned plantation, but it soon becomes obvious that the old house is not as empty as they thought, as a handful of angry ghosts make their presence known while William and his cohorts fight over the gold. Also featuring Isaiah Washington, Patrick Fugit, and Michael Shannon, Dead Birds was the first feature film from director Alex Turner.
Critic Reviews for Dead Birds
Audience Reviews for Dead Birds
Pretty terrible straight-to-video horror flick.
Tim Salmons
Super Reviewer
½
Most of the recent horror movies that I've seen have been so dismal that Dead Birds gets a slightly favorable review just for not being awful, despite the fact that it's not particularly scary. The setting and time period were refreshing and the build-up and pacing of the movie were enjoyable. However, once the full story behind the haunted plantation is revealed, it was disappointingly generic. I only paid about $3 for Dead Birds, and it's worth that price and a hour and a half of the average horror fan's life. And yes, there was a dead bird in the movie, but what's with the name?
½
As some of you may already know, atmosphere is the biggest factor for me in any horror film. Dead Birds is drenched with atmosphere. It drowns in it! This is up there with some of the most atmospheric horror films ever made, and I loved every second of it. The atmosphere alone was enough to send chills down my spine. Dead Birds is indeed one spooky ass ghost story. Eerie, breezing night winds that howl within the dark fields. Rumbling thunder from the rainy moonlit sky. Soft spoken whispers in every corner of a dark and creaky old farm house. Ghastly possessions and demonic-like children hiding under the beds. All of this is done at a calm and slow pace, but that's the beauty of it. That's it's charm. It's almost hypnotic, and in many ways relaxing, but spooky at the same time. Dead Birds is a horror movie to get cozy with, underneath the blanket, on a dark and stormy night. This movie isn't like any other horror film we're use to seeing these days. Dead Birds takes us back when horror films relied more on it's settings, with the dark and cold cinematography, as well as the eerie sounds inside the old dark house. It can almost pass for an old black and white horror film, in terms of it's style and way of storytelling. Dead Birds should be a lesson to all the crappy horror films these days. This is one good movie! Amazing story, as well as a perfect thought out back story. A simple, but subtle script. Solid performances from the whole cast. And like I mentioned before, beautiful cinematography! Plus, how can I forget...it's bloody and gory too. Dead Birds should have gotten more play than it did. It's a shame something like this goes unrecognized or even ignored by the horror community. We need more horror movies like this. Dead Birds is a real spooky treat! A solid ghost story. **For people looking for a fast paced horror movie(or something like SAW), look else where.**
jd cryptic
Super Reviewer
Dead Birds Quotes
There are no approved quotes yet for this movie.