Scalps
(1983)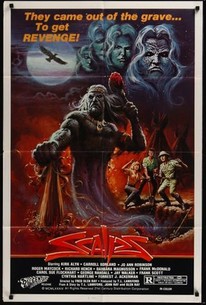 AUDIENCE SCORE
Critic Consensus: No consensus yet.
Movie Info
Members of an archaeological expedition make the fatal mistake of trespassing on an ancient Indian burial ground.
Critic Reviews for Scalps
There are no critic reviews yet for Scalps. Keep checking Rotten Tomatoes for updates!
Audience Reviews for Scalps
Scalps is a terrible movie without a doubt, anyone can see that. However, it's worth watching due to the fact that it's just SO bad on every level. The lack of knowledge when it comes to Native Americans alone is hilarious, but then again you have countless problems going on at the same time. The effects, gore and costuming is on the level of a student film. Everything about this movie looks fake except for the piece of shit land they were able to film the movie at; I suspect that it was a baron wasteland used for missile testing back in the 60s. The actors are all uncharismatic, give terrible performances and come across as people that were picked off the street. My favorite person is the red-faced old man with a blue bandanna on his head who was supposed to be the wise character; just comic gold. Then there's the plot that just comes across as utterly lazy and stupid all in one. The excuses for getting six college kids to go camping in the middle of nowhere has never made less sense. Hunting for cursed Native American artifacts for their immoral professor? Anyway, the reason this movie was made was most likely for the scalping idea and that's definitely a redeeming quality. However, it's so terribly executed that this movie only works as a car wreck that is mildly amusing to watch. I feel bad picking on it because it obviously never aspires to be anything but a piece of shit that you throw in for a double feature, but I won't lie and say that it's good. The one thing I actually think does work is the score because at times it drowns out the sound of the terrible dialogue.
Conner Rainwater
Super Reviewer
Scalps Quotes
There are no approved quotes yet for this movie.