The Girl Next Door
(2004)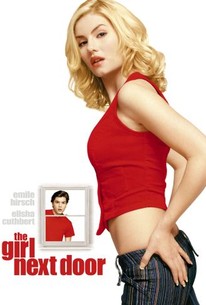 The Girl Next Door Photos
Movie Info
Boy meets girl who's already met all sorts of boys and girls in this teen-slanted comedy. Matthew Kidman (Emile Hirsch) is a straight-laced and highly ambitious high school student who plans to study at Georgetown University and dreams of a career in politics. While most of his classmates are in the throes of an epidemic of senioritis, Matthew is obsessed with schoolwork and has a hard time relaxing and having fun. But he finds himself a bit less focused on his future career when Danielle (Elisha Cuthbert), a beautiful 19-year-old blonde, moves in next door. Danielle is playful, spontaneous, and doesn't always remember to draw her shades, and before long Matthew is head over heels in love. Danielle soon finds herself taken with Matthew as well, but their relationship takes an unusual turn when he discovers that, before she moved to town, Danielle had a successful career as a porn actress. Matthew is able to convince Danielle that she's cut out for better things in life than appearing in porn videos, but his advice doesn't especially please Kelly (Timothy Olyphant) or Hugo (James Remar), two porn moguls who figure Matthew owes them big-time after convincing their leading lady to drop out of the adult industry. The Girl Next Door -- which, appropriately enough, shares its title with a 1999 documentary about adult film superstar Stacy Valentine -- also features Timothy Bottoms, Paul Dano, and Chris Marquette.
News & Interviews for The Girl Next Door
Critic Reviews for The Girl Next Door
Audience Reviews for The Girl Next Door
Aside from it feeling a tad long and having multiple conclusions, "The Girl Next Door" is a very funny coming-of-age story that is not your average way of telling it. Emile Hirsch is hilarious here as a high school senior who falls for the girl next door, whom he soon finds is a former porn star. Driven by morals he sets out to make her think she is more than she thinks she is. While giving some flavour to his boring life, he is also helping the people around him and those are the emotions to look for through all this hilarity. Overall, "The Girl Next Door" has some clever dialogue, some that may fall flat, but charming for the most part, a cast that is irresistible, and a story that anyone who has been through high school can enjoy, even if they never had these crazy adventures. It goes a little too far sometimes, but I really really like this film.
Just another teen comedy movie with a bit of twist in it. Funny and also stupid at the same time. Sometimes it wouldn't even make sense. Watch it at your own risk like I did. You may end up liking it like other reviewers.
Dead Angel
Super Reviewer
The Girl Next Door I thought a mediocre comedy with few decent laughs. However this is one film I just didn't enjoy. First off, I really don't like Elisha Cuthbert, though she's really attractive, she definitely can't act, and she's annoying. The film I thought was poorly plotted, with bad acting; directing and I felt that the actors chosen to play the parts didn't really fit. This film might have succeeded if it had a better cast and script, but it didn't, at least not for me. I laughed only a few times, and once the credits rolled, I thought that the film wasn't anything great. Basically this film takes ideas from the classic Risky Business film, and throws it around, and tries to create something new. But the fact is, is that this film doesn't do anything new. The film is poorly done, uses old ideas, and basically makes it more crude, and vulgar to try to appeal to viewers loving this type of comedy. I thought it was a mediocre comedy, with nothing new or interesting about it. Laughed a few times, and quite frankly is one of those films you only need to watch once. This film doesn't do anything to thrill you, and make you laugh with original ideas. The film uses recycled ideas, and adds those elements into a mediocre script. The ends result is a film that doesn't work, and is plagued with mostly unfunny gags that we've seen so many times before.
The Girl Next Door Quotes
There are no approved quotes yet for this movie.