Sylvia
(2003)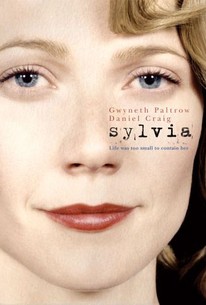 Movie Info
The life of poet and novelist Sylvia Plath -- one of the most celebrated literary figures of her generation -- is brought to the screen in this controversial screen adaptation. Born in Boston, MA, in 1932, Plath (played by Gwyneth Paltrow) developed a precocious talent as a writer and published her first poem when she was only eight years old. That same year, tragedy introduced itself into her life as Plath was forced to confront the unexpected death of her father. In 1950, she began studying at Smith College on a literary scholarship, and while she was an outstanding student, she also began suffering from bouts of extreme depression; following her junior year, she attempted suicide for the first time. Plath survived, and, in 1955, she was granted a Fulbright Scholarship to study in England at Cambridge. While in Great Britain, Plath met Ted Hughes (Daniel Craig), a respected author who would later become the British Poet Laureate; the two fell in love, and married in 1958. However, marriage, family, and a growing reputation as an important poet failed to bring Plath happiness, and as she became increasingly fascinated with death in her later poetry and her sole novel, The Bell Jar, and after Hughes left her for another woman, her depression went into a tailspin from which she would never fully recover. Sylvia was adapted in part from Birthday Letters, a collection of poems Ted Hughes published in 1998, in which he dealt with his marriage to Plath in print for the first time. ~ Mark Deming, Rovi
News & Interviews for Sylvia
Critic Reviews for Sylvia
Audience Reviews for Sylvia
½
A very tender and dark little biopic that skims the surface of the sensitive and prolific poet and author Sylvia Plath. The film itself was bleak, wounding around the life of Plath, but more than anything also focused on her lover and husband Ted Hughes. Everything is dark angles and gilt mirrors with the poignant performance from lead Gwyneth Paltrow. She is yet again playing a British woman in a destructive relationship, except there is definitely a power play between herself and her husband. Both are poets, both want to be taken seriously, and both have the lowest of lows and the highest of highs. In the film Paltrow showcases Plath's irrelevancy next to her husband's broad fame among the intellectuals and middle class alike. He is dashingly handsome, and ends up romancing many of their female acquaintances, which only drives Plath madder than she already is as a result. Worse, is that he retains the fame whilst she is still struggling to write anything at all. She feels dwarfed in his huge shadow, and the film does a great job of illustrating how isolated Plath was by making her seem small among the darkness of the cinematography. There is little to no light in this entire film. Both Paltrow and her leading man, Daniel Craig, are entirely enshrouded in shadow throughout this film, even when it's supposed to be day. When the sun shines, it's bleak and oppressive,which was highly unrealistic, and gave us the feeling that Plath must have gone through a period of listless hatred, even in the company of her two children. Her erratic behavior lent little in the film, except for the brief scene in the beginning, but she does confide her feelings to an ardent supporter, played by the great character actor Jared Harris. What doesn't work in this film is that there isn't any buildup to Plath's suicide. The ending feels anticlimactic, mostly because her husband isn't assigned any dimensions except that of a vicarious jerk. He flits in and out of the story, only to give her children and make her miserable, but at the end he's only a face in the crowd of onlookers. There was nothing traumatic about this film, nothing to cling to Plath as a person, or the ideals of her work. There just could have been so much more done with the script and the way it was shot, and that really was just underwhelming for me as a viewer.
Spencer S.
Super Reviewer
This movie was very interesting. It was a bit dry at points, but was so intriguing that it kept my complete attention. The psychology of the two main characters was amazing, and the movie was done brilliantly. Also, seeing Paltrow in a new role like this was phenomenal, and very surprising. I think that she did a wonderful job depicting this very, very sad woman. Kudos!
Cynthia S.
Super Reviewer
Sylvia stars, Gwyneth Paltrow as the American poet and Daniel Craig as her husband and fellow poet Ted Hughes. It begins with their meeting in Cambridge and ends with Plath's death in 1963, so it essentially follows the course of their relationship, Plath's struggle to write and with the break-up of their marriage, Plath's original but tortured out-pourings, breakdown and death.Gwyneth plays the part quite well she gives a touching performance in my opinion
Sylvia Quotes
There are no approved quotes yet for this movie.