Dummy
(2003)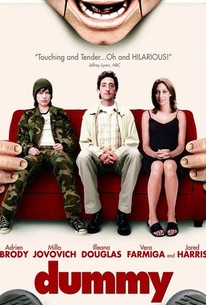 TOMATOMETER
AUDIENCE SCORE
Critic Consensus: Dummy is a sweet family comedy that succeeds due to charming performances, even if the final product feels slightly undercooked.
Movie Info
The sophomore effort from writer and director Greg Pritikin, who previously co-directed and acted in 1998's Totally Confused, Dummy stars Oscar winner Adrien Brody (The Pianist, Summer of Sam) as Steven, a recently unemployed ne'er-do-well who has difficulty expressing himself. Steven's best friend is Fanny, an aspiring singer played by Milla Jovovich (The Fifth Element, Resident Evil) who, along with Steven, is just looking for her niche. Eventually Fanny takes a shine to Yiddish music and Steven finds he has a knack for ventriloquism. Through his newfound talent, Steven discovers that he is able to overcome his social problems through his dummy and decides to try impressing and winning the heart of Lorena, played by Vera Farmiga (Autumn in New York, 15 Minutes). The winner of the Special Jury Prize at the 2003 Santa Barbara Film Festival, Dummy also stars Illeana Douglas and Jared Harris.
Audience Reviews for Dummy
Its contrived and sometimes, er, wooden, but the characterizations and charm are better than the flaws in this typical romcom where the eternal nerd eventually wins the girl of his dreams. Adrian Brody is again good but the film is nearly stolen by a surprising and animated Milla Jovovich.
Kevin M. Williams
Super Reviewer
I actually really admire that Adrien Brody chose to follow up The Pianist with Dummy. This movie is all kinds of bizarre and really nails a sense of awkwardness without having that typical "indie" look. It's genuinely funny and I can honestly say that I laughed out loud multiple times, which doesn't happen too often. Adrien Brody's nerdy performance as a makeshift ventriloquist is way too hilarious and impossible to not enjoy. Also, Milla Jovovich's wacko grunge character is great too. It's a unique comedy that doesn't alienate, but really just attempts to try new things with a familiar formula.
Conner Rainwater
Super Reviewer
This was a great movie!! If you love adriend Brody or even if you dont like him I highly highly recommend seeing this movie. So much quirky comedy. Milla Jovovich's character almost steals the show! She is great and this movie showed she really is an actress with range. I believed her the whole time and she is just hillarious! I love it when Brody plays awekward unsure guys, He is just adorable!! and with the puppet (wich is usually pretty creepy) he managed to actually make me laugh instead of cringe! This is just a fun funny movie. See it for Adrien Brody and Milla Jovovich's performances alone! :D that is how I felt watching this movie. :D
Morgan Salem
Super Reviewer
Dummy Quotes
There are no approved quotes yet for this movie.