The Hole
(2001)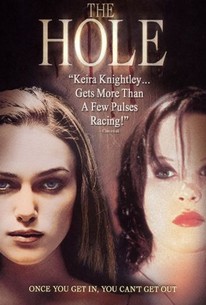 Movie Info
A fun-filled getaway for four teenagers becomes a season in Hell in this tense British thriller. Liz Dunn (Thora Birch) is a student at an exclusive private school who is head over heels for Mike Steel (Desmond Harrington), a handsome classmate whose father is a well-known American rock star. Liz, however, is self-conscious about her looks and is convinced Mike would rather be with the prettier girls in her class. Liz is also unenthusiastic about an upcoming field trip, in which she and the other students will have to camp out for three days while studying local geography. Liz confesses her infatuation with Mike to Martin Taylor (Daniel Brocklebank), a science-minded geek and longtime friend who happens to be in love with Liz, though she prefers to ignore it. Martin proposes a solution to both of Liz's problems; he's found an underground bunker built during World War II near the school grounds, and he arranges a little party in which Liz and Mike will spend the three days of the field trip in the bunker, with class couple Geoff (Laurence Fox) and Frankie (Keira Knightley) going along, giving Liz a perfect chance to impress Mike with her charm. The students lay in a supply of food, water, and booze to last them for three days, but after 72 hours, they discover they've been locked in, and they're not sure if Martin intends to let them out. The Hole also stars Embeth Davidtz as a psychiatrist who consults with Liz after her ordeal.
Critic Reviews for The Hole
Audience Reviews for The Hole
The credits were the best part. The flashlight effect on all the names. It was really cool. Okay whoa. I just realized how completely unrealistic this movie is. Liz wasn't even suspected in the deaths of her friends, they just put all the blame on that one kid and closed the case. Wouldn't it be suspicious that Liz was the only one that was able to escape? And how would she have escaped if they were all locked in? And how could they be locked in, if the door only locks from the inside? Why would the investigators take one teenager's word over another? Why would they jump to the conclusion that Martin committed suicide? What was his motive for that? There wasn't even anything tying him to the crime scene! Are these investigators complete dumbasses or is this plot just stupid? Also, out of ALL the places you could go to have a "getaway party" why would you choose an unsafe bunker from World War ll? These children are stupid, and so are the investigators. The more I think about it, the more this movie sucks. The movie was kind of boring and really predictable. From the start, it was so obvious *spoiler* that the girl Liz was a crazy bitch. It really wasn't that shocking. The way the kids died was also not very thrilling. One guy goes crazy and kills the other guy, the girl who is so thin and into herself dies from Bulimia, another guy falls off the 50 year old rusted ladder....whoaa shocking! It was pretty bland. The plot seemed interesting, but the way the movie put it together made it confusing and boring. It wasn't absolutely terrible, but I definitely wouldn't watch it again.
The Hole is a great blend of horror and psychological thriller. It's disturbing, not only in the amount of physical violence that the characters inflict on each other, but in the film's analysis of one girl's willingness to do whatever it takes to win over the object of her affection. Thora Birch and Desmond Harrington star alongside a young Keira Knightley. Nick Hamm, who will go on to direct the forgettable Godsend, delivers a clever, tense, and terrifyingly realistic look at high school obsession underlying a whodunit that will have you guessing right up till the very end!
Edward Boxler
Super Reviewer
½
I really really liked this film, the acting was good and the storyline was good and it keeps you guessing and still surprises you at the end as you come to one conclusion and gives you a completely different answer. Its about 4 teenagers who dont go on this trip and end up in this hole which is a secret underground bunker and then the door wont open when tey wont to leave, through a series of different stories told by differnt people everything is what it seems and the survivor doesnt seem quite so innocent even though shes been through a great ordeal!! This film is suspenseful and brilliantly written!
Film Crazy
Super Reviewer
The Hole Quotes
There are no approved quotes yet for this movie.