The Hunted
(2003)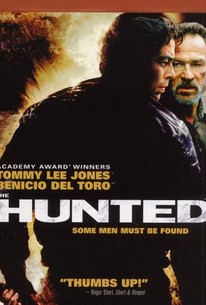 Movie Info
In the green woods of Silver Falls, Oregon, Aaron Hallam, a trained assassin AWOL from the Special Forces, keeps his own brand of wildlife vigil. After brutally slaying four deer hunters in the area, FBI Special Agent Abby Durrell turns to L.T. Bonham-- the one man who may be able to stop him. At first L.T. resists the mission. Snug in retirement, he's closed off to his past, the years he spent in the Special Forces training soldiers to become skilled murderers. But when he realizes that these recent slayings are the work of a man he trained, he feels obligated to stop him. Accepting the assignment under the condition that he works alone, L.T. enters the woods, unarmed--plagued by memories of his best student and riddled with guilt for not responding to Aaron's tortured letters to him as he began to slip over the edge of sanity. Furious as he is with his former mentor for ignoring his pleas for help, Aaron knows that he and L.T. share a tragic bond that is unbreakable. And, even as they go into their final combat against each other, neither can say with certainty who is "the hunted" and who is "the hunter."
Critic Reviews for The Hunted
Audience Reviews for The Hunted
The Hunted was a pretty decent action flick. It's quick paced and the chase never lets up until the very end. I liked that it kept it going fast because this film had the potential to be a sleeper otherwise. Tommy Lee Jones is comfortable in these types of roles and he's good in them. Another great job. Benicio Del Toro is still a fairly new actor for me. I haven't seen him a lot of his films. I really like him and I thought he was great. But I saw him more as a tortured soul in this film. You teach people to be a vicious killer you shouldn't be surprised when that's what they turn out to be. The fight scenes were pretty intense and well choreographed. Good movie to watch on a rainy Cali night.
♥˩ƳИИ ƜѲѲƉƧ♥
Super Reviewer
William Friedkin's The Hunted is an action thriller that starts off well before the slow decline.
There really isn't much in the way of surprise when it comes to the story, which is probably why a run time just below 90 minutes is appropriate. The concept of an expert survivor tracking another expert works well in the wilderness, but the thrills decrease when the plot decides to move things into a more urban setting.
The violence is bloody and realistic. The same can be said about the close quarter combat that occurs. The Hunted isn't exactly loaded from start to finish with this stuff; however, there is enough to get by.
Tommy Lee Jones is a solid selection and plays his role well. Benicio Del Toro's line delivery is a bit awkward which makes him seem like a miscast. Connie Nielsen fills in the rest of the film when it isn't on Jones or Del Toro.
For what it is, The Hunted is a watchable 90 minute production. Not much more than that.
½
The Hunted is an exciting action film that delivers. Directed by William Friedkin, The Hunted is a thrill a minute action film. I really don't get the bad rep the film has received. The film is very enjoyable, and if you love a good action film with a strong cast, then this is a must see film. The film may not be perfect, and the plot may suffer st times, but Friedkin's directing keeps the film interesting. Benicio Del Toro is great here, and this is yet another strong performance. The Hunted is pure mindless fun, sure the plot at times is uneven, but the acting and the action delivery makes up for it. This isn't the film the best that Friedkin has directed, but this is still a good effort nonetheless. The actors make the film better than it is, and it's always exciting to see Benicio Del Toro and Toimmy Lee Jones go head to head. Friedkin's directing is immaculate and though the plot is weak at times, the performances alone make the film worth watching. I was very much entertained by the film, and thought that despite its imperfections, it was very entertaining with good thrills and good action, and above all, good acting. Overall there is is plenty of good talented actor here to keep you interested from start to finish, and though it's nothing new, it's always fun to watch. If you're looking for a mindless actioner with good directing and a good plot, this mis a good enough film for you to see.
The Hunted Quotes
There are no approved quotes yet for this movie.