Luther
(1974)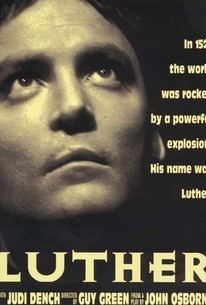 AUDIENCE SCORE
Critic Consensus: No consensus yet.
Movie Info
Edward Anhalt adapted the John Osborne play about the 16th-century German monk who became the leader of the Protestant Reformation.
Critic Reviews for Luther
Audience Reviews for Luther
½
"Luther" is a thoughtful and intelligent look at the life of Martin Luther(Stacy Keach), starting with a knight(Julian Glover) wiping the blood from a dead soldier on his tunic to signify all the blood shed after Luther's attacks on the Church split Christianity wide open. In 1506, Luther started out as a humble monk before teaching at a university and that's where he got into trouble with his superiors. As the knight points out, Luther was not the first person to notice the Church's handing out indulgences left, right and center for money and parading untold relics as the real thing. What separated him and made him so important was the eloquent way he used cold logic to refute these, to him, impious actions. Where "Luther"(adapted from a play by John Osborne) succeeds is by keeping Luther in doors where he thinks, away from the general population.(It's probably no accident that Keach is cast against a notable British cast.) So, while he is aware of every word he says, Luther is not aware of how they will affect the world around him, much less himself, as he eventually gets married, to a nun(Judi Dench), and becomes a father. Not bad for a man(and he's a man, just as flawed as the rest of us with the same irritable bowels) whose calling is so readily dismissed at one time by his father(Patrick Magee).
Luther Quotes
There are no approved quotes yet for this movie.