Fidel
(2002)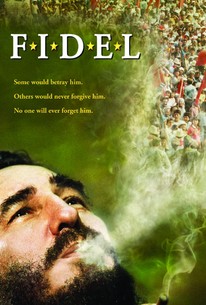 TOMATOMETER
AUDIENCE SCORE
Critic Consensus: Fidel offers a hefty -- albeit still frustratingly incomplete -- overview of one of the 20th century's most notorious political figures.
Movie Info
Filmed in Mexico and the Dominican Republic, this massive biography of Cuban leader Fidel Castro begins in the 1950s, when the title character, then a young and hungry lawyer, bristles at the iniquities and corruption of the Batista political regime. Inspired by the words by left-wing radio commentor Eddie Chibas (Hector Elizondo), Fidel becomes active in a revolutionary movement aimed at toppling Fulgencio Batista (Tony Plana). In 1959, Castro and his followers stage a spectacularly successful coup, one that is staunchly supported by thousands of idealists and Cuban expatriates in the United States. Unfortunately, to paraphrase cartoonist Bill Mauldin, no sooner has Fidel come down from the hills like Robin Hood than he begins behaving like the Sheriff of Nottingham, killing scores of his political enemies in round-the-clock executions, routinely snatching away the basic human rights that he had promised his followers, and embracing Communism with a fervent passion. Although the film does not shy away from showing the darker side of Castro, it is essentially sympathetic to its subject, balancing the Cuban dictator's political outrages with his many acts of benevolence, and attempting to provide "motivation" for what seem to be appalling contradictions. Victor Huggo Martin and Honorato Magaloni are cast respectively as the younger and older Castro, with Maurice Compte as his brother Raul and Gael Garcia Bernal as the ill-fated Che Guevara.Fidel was originally telecast in two parts over the Showtime cable network on January 27 and 28, 2002.
Audience Reviews for Fidel
This film does a good job of explaining Castro both in the 1950s before, and during, the revolution. The best part is showing Castro's narcissism, and ego. Any attack on the revolution is a personal attack on him, and vice versa. This is definitely an anti-Castro film by the end. United States biased view, I am sure. Still, a very interesting, and well done effort. Any film that sparks my interests, and prompts me to research for more information, is a good deed in my book.
Cynthia S.
Super Reviewer
Fidel Quotes
There are no approved quotes yet for this movie.