Swept Away
(2002)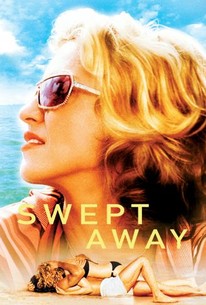 Movie Info
A spoiled rich woman goes on a yachting holiday with friends in the Mediterranean and gets entangled in an unlikely romance with a communist sailor.
Critic Reviews for Swept Away
Audience Reviews for Swept Away
The only reason some people tolerate the explosive diarrhea that is this film is because Madonna stars in it, Guy Ritchie directs, and there's eroticism, dubbed as steamy but in reality is soft core porn. Besides the fact that this "love story" is that of a love-hate affair, it also serves as a sadomasochistic relationship built on the entrapment of the poor server and the rich socialite. The original 1974 Italian version of this film used this disgusting display of man overpowering woman, making her reliant on him as his slave, all in the name of serving as a comparison to Communism and the general consensus that the American way of life isn't the only way. I can get behind the travesty of the original for the sake of art, but this film was merely made so Madonna could show off her toned arms and Guy Ritchie could...ruin his career? I'm still fuzzy on why the director of Snatch and Lock, Stock, and Two Smoking Barrels took it upon himself to cast his then wife and a barely audible Italian man in a barely intelligible remake of an already shitty movie. Besides the fact that this film is in no way romantic, culturally relevant, or socially acceptable, the original source material is intercut with these strange dream sequences best described as the deleted parts of Madonna's later music videos. There's music, impressions, and some truly corny scenes between the stranded lovers. There's also no chemistry between them, Madonna's face scowling in the hot sun and Adriano Gianniani resembling a lost underwear model. Just, please, do not watch another example of our culture at its worst.
Spencer S.
Super Reviewer
Again, like the original, I haven't decided whether I like the movie or not. I do think this version was a bit better though. The thing that gets me is that the plot/storyline is actually really good, but the way both crews brought the story to life kinda sucked. Interesting to say the least...
Leigh Ryan
Super Reviewer
I was a little apprehensive of watching this DVD, obviously if the press and critics were to be believed it would be the worst film i'd ever see. That title goes to 'From Hell', the worst east end accents i've ever heard, a film I could only watch for ten minutes. I was expecting the worst and was pleasantly surprised with Swept Away. The actors are very good and very believable, the movie obviously totally different to anything Guy Ritchie has done before, but it was fascinating how he handled the change from gangster violence to the violence portrayed in this movie. At the same time it was interesting to see the relationship between the two leads devolop. As others have commented the ending was very emotional, and it would have been better if more time was given to the characters to explore their relationship. But after watching the movie from beginning to end I found no moments that made me uncomfortable or even boring, I would highly recommend this movie. If you don't want to take my word for it, watch it and judge for yourself...
Cassandra Maples
Super Reviewer
Swept Away Quotes
There are no approved quotes yet for this movie.