Beat
(2000)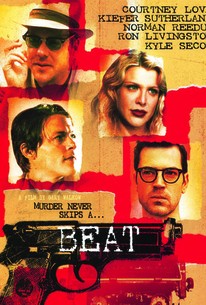 Movie Info
William S. Burroughs' ill-fated performance of his "William Tell act" -- resulting in his wife Joan Vollmer getting a bullet in the brain with a shot glass atop her head -- soon became the stuff of Beat legend. This film, directed by Gary Walkow, traces this doomed romance from its inception to its bloody end. The movie opens in 1944 New York, where Columbia journalism student Vollmer is already living a bohemian life filled with pharmaceuticals and a host of future beatniks, including hunky Jack Kerouac (Daniel Martinez), a young Allen Ginsberg (Ron Livingston), and of course, Burroughs (Kiefer Sutherland). Also frequenting Vollmer's pad is Lucien Carr (Norman Reedus) whom everyone is enamored with, especially Dave Kammerer (Kyle Secor), who winds up dead after trying to jump the object of his affection. Seven years later, Joan and William have married in spite of Burroughs' obvious homosexual predilections. Their domestic bliss is strained when the two have to flee to Mexico City after they get slapped with a drug rap. Ginsberg and Carr, now correspondents for the UPI, visit the couple only to discover that Burroughs split town with his lover-for-hire. Vollmer and the boys decide to go on a road trip that is brimming with heterosexual tension. William eventually returns from his sex-binge suspecting that Joan had a fling with Carr. During that fateful night, Burroughs pulls out a gun that he was going to sell for drug money and performs one of the most spectacularly botched party-tricks in literary history. This film was screened at the 2000 Sundance Film Festival.
Critic Reviews for Beat
All Critics (7) | Top Critics (1) | Fresh (4) | Rotten (3) | DVD (4)
Ron Livingston is excellent as Ginsberg, the film's de facto narrator, and Kiefer Sutherland is admirably restrained in the role of Burroughs.
Put it out of it's misery, please?
March 11, 2006 | Rating: 2/5
This failed effort would have been better served if it wasn't released.
Audience Reviews for Beat
I didn't know what to expect going into the film, but I was able to keep an open mind and actually appreciate what the production team was trying to get across. What could have been a great film about William S. Burroughs and his literary influence instead seems to be a slice-of-life picture about a married couple. The script suffers terribly from virtually no uniqueness to these people. How Courtney Love continued to make her way into any spotlight is beyond me, and Kiefer Sutherland attempting to portray Burroughs is like Keanu Reeves portraying Laurence Olivier. What a piece of shit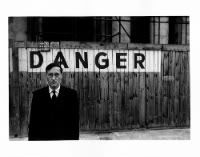 El Hombre Invisible
Super Reviewer
Beat Quotes
There are no approved quotes yet for this movie.