The Rookie
(2002)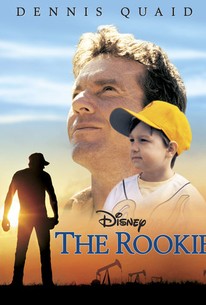 TOMATOMETER
AUDIENCE SCORE
Critic Consensus: A heart-warming sports flick, The Rookie greatly benefits from understated direction and the emotional honesty Dennis Quaid brings to the role of Jim Morris.
Movie Info
Jim Morris never made it out of the minor leagues before a shoulder injury ended his pitching career twelve years ago. Now a married-with-children high-school chemistry teacher and baseball coach in Texas, Jim's team makes a deal with him: if they win the district championship, Jim will try out with a major-league organization. The bet proves incentive enough for the team, and they go from worst to first, making it to state for the first time in the history of the school. Jim, forced to live up to his end of the deal, is nearly laughed off the try-out field--until he gets onto the mound, where he confounds the scouts (and himself) by clocking successive 98 mph fastballs, good enough for a minor-league contract with the Tampa Bay Devil Rays. Jim's still got a lot of pitches to throw before he makes it to The Show, but with his big-league dreams revived, there's no telling where he could go.
News & Interviews for The Rookie
Critic Reviews for The Rookie
Audience Reviews for The Rookie
½
Filled with very solid performances by the entire cast, "The Rookie" presents the true story of a man who grew up as a kid, moving around with his family and being driven away from his dreams in baseball. When his family finally finds a final resting place, he must live his life there, isolated from baseball and focussing on dirty work and family. Once the opportunity to teach and coach a house-league baseball team arises, he does not hesitate. This sparks people to talk about how good of a pitcher this coach is, and his career escalates from there. Like I said, the acting is great, the story is presented very well, the script is solid, and the direction is nice and tender. "The Rookie" may not be the best baseball film of all time, but it is a very solid effort/entry into the genre.
The Rookie is one of the few sports films that really doesn't do anything for me. The film is overly cliched and is more irritating and boring than anything else. I saw this film made it on the list of worst sports movies ever made. I can understand why. The film is very poorly written, the acting is terrible, the plot is predictable and Dennis Qaids kid in the film is irritating as hell. But its normal for a Disney film. That's to be expected. I thought the film was really a chore to finish, the only reason that I have this is because it came as a two pack packaged with a film that I wanted. I thought this film would be good, it wasn't. Sometimes a story with lots of cliches can be interesting and fun, when the script is well written, and the cast is good. But thats not the case with The Rookie. The Rookie tries too hard at being a feel good film, and instead it misses the mark, big time. Theres little interest in the film to be had 40 minutes in and the film feels sloppy, and poorly made. The Rookie could have been a great film, but it uses the usual feel good movie formula in such a bad way that the film is laughable. If you're looking for one of the worst feel good sports films, then The Rookie is that film. Boring, predictable and so poorly made all you want to do after watching this film is forget about it.
½
Life is perfect, isn't it? There are no hitches, and it just moves along perfectly. That's how life is, right? Well, maybe in a Disney movie, but that's not what makes a good film. When you think about it, it's the ups and downs in characters' lives that makes movies interesting. Who cares if this guy's life is perfect? It's boring. Yeah, it's based on a true story, so they couldn't do much about it, but they really should have taken some creative license with this one, because watching this guy have success at everything he does with absolutely no failure is not interesting. It's boring. Plain and simple. Not to mention that it seemed that half the movie was Quaid's kid smiling at his daddy. Though Quaid does what he can with the poorly-written role he's given, the film still sucks.
Jay Hutchinson
Super Reviewer
The Rookie Quotes
There are no approved quotes yet for this movie.