The Time Machine
(2002)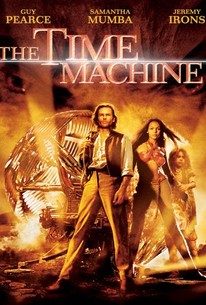 TOMATOMETER
AUDIENCE SCORE
Critic Consensus: This Machine has all the razzle-dazzles of modern special effects, but the movie takes a turn for the worst when it switches from a story about lost love to a confusing action-thriller.
Movie Info
The classic science fiction novel by H.G. Wells becomes this big-budget adventure directed by the author's great-grandson Simon Wells. Guy Pearce stars as Alexander Hartdegen, a scientist, professor, and inventor in 1895 New York City who believes that time travel is possible. The sudden and unexpected death of his fiancée spurs Alexander to build a time machine, which he hopes to use in an effort to change the past. When he is unable to change the past, Alexander hurls himself more than 800,000 years into the future, seeking answers about the nature of time, but instead encountering a dystopian world where humanity has divided up into two races, the peaceful Eloi and the subterranean Morlocks. Befriending the beautiful Eloi woman Mara (pop singer Samantha Mumba), Alexander must set out to save her from the underground world of the Morlocks when she is captured by them. Along the way, he is aided by Vox (Orlando Jones), a bio-mechanical being from the 21st century. Ultimately, Alexander makes a shocking discovery about the true nature of the Eloi and Morlocks and decides that the only way to change the future is to alter the present. Due to exhaustion, director Wells was briefly replaced during the last few weeks of production by Gore Verbinski, director of The Mexican (2001). The Time Machine co-stars Jeremy Irons and Mark Addy. ~ Karl Williams, Rovi
Critic Reviews for The Time Machine
Audience Reviews for The Time Machine
A simplistic yet entertaining adaptation that eliminates the smart social commentary found in H. G. Wells' story and focuses on a lot of action with very little imagination, but while it has some problems, it will be enough fun for time travel fans.
Carlos Magalhães
Super Reviewer
Film full of potential, but is an awful train wreck, The Time Machine is one of those films that has an ambitious idea, but wastes it due to the fact that the script is lazily written, the cast though impressive just don't deliver anything great, and the film feels tiresome, strained and unimpressive. I really wanted to enjoy the film, and though the idea was good, the execution was poor. I really hated the finished film, and this a forgettable affair that is a pure waste of time. Don't go in expecting a wonderful film, everything here is over the top, poorly constructed and just doesn't have that spark to really make the story take off. As it is, it's a film that has an underdeveloped story that is quite boring despite its premise. There is never anything going on, on-screen to really make this film stand out. Save yourself the trouble, this isn't worth seeing. The film just wastes its potential and never takes off and what could have been a great film, ends up being a failed attempt at remaking a classic. This is lazy filmmaking, and it doesn't deliver anything entertaining to the viewer. I really was let down by this film, and it could have been an entertaining remake; however it just ends up being a failed film that isn't memorable whatsoever. Don't watch the film; you'll be glad you did. This one just doesn't thrill and its ideas never come to fruition due to its script limitations. Everything about the film feels out of place, and it ends up being a dull, boring, and overall stupid movie that just ends up being a total waste of film.
Great special effects, but as for the script and acting, well, it could surely have been a lot better. It's a shame how much potential is lost here, due to lazy writing. Because while the time traveling bits are pretty awesome, the storyline per se goes into B-movie territory. Had they skipped the parts with the Morlocks and Jeremy Irons in creepy make-up, it could have been a highly enjoyable experience. But due to said shortcomings, it's value never amounts to more than an average product of the sci-fi department. Worth the watch though, just for the nice visual treats.
The Time Machine Quotes
There are no approved quotes yet for this movie.