Invincible
(2002)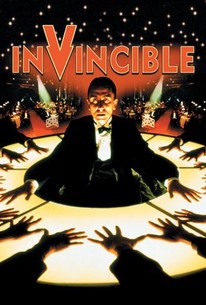 Movie Info
Invincible tells the true story of Zishe Breibart, a Jewish blacksmith from eastern Poland who travels to Berlin in the 1930s to join a nightclub cabaret. He is billed as the world's strongest man - a claim that is not well received by the rising Nazi party. Using his role as the modern day Sampson to defend his own people, Zishe embarks on an inevitable path to tragedy.
News & Interviews for Invincible
Critic Reviews for Invincible
Audience Reviews for Invincible
This is typical Herzog: he makes a touching film about Jews in Germany and the rise of the Nazi party, without overloading the film with pity or melodrama. And he still manages to get in his lingering "nature shots".
Marcus Woolcott
Super Reviewer
Based on actual events, Werner Herzog chronicles the rise and fall of Polish strongman Zishe Breitbart who entertained affluent Germans in pre-WWII Berlin. Herzog manages to capture the historical significance of the events but a meandering script and suspect performances left me feeling a bit cheated and underwhelmed.
Randy Tippy
Super Reviewer
"Invincible," which completely flew under everyone's radar WAY back in 2001, is a fascinating film... a colorfully painted tale of individual triumph in the face of adversity. Based on fact, the film is a very straightforward effort, but is not completely void of Herzog's off-kilter style and sensibilities. It feels very dreamlike, and has a certain elegance and whimsy. Adding to this quality is a cast of relatively inexperienced actors (Tim Roth and a few others being the exceptions). The Hulking Jouko Ahola for example, the hero of the narrative, has a very limited acting range and ability but delivers a very likable, touching, and admirable performance in spite of himself. But no doubt it is Herzog who deserves credit most. Each scene is filled with the passion and love he obviously had for this material, and luckily his emotions bleed through. This is a powerful story told in a very unique and level-headed fashion. See this Gem. Another really interesting film from Herzog.
Invincible Quotes
There are no approved quotes yet for this movie.