Collateral Damage
(2002)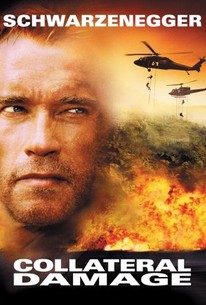 Movie Info
In one fleeting moment, L.A. firefighter Gordy Brewer loses everything he ever cared about. Running late to meet his wife and young son at a downtown high-rise, the devoted family man arrives in time to witness a bomb explode, showering the area with debris and shattered glass. The explosion is credited to 'El Lobo, The Wolf', an infamous rebel leader in Colombia's decades-long civil war. The intended targets were members of the Colombian consulate and American intelligence agents; its casualties included one civilian woman and one small boy--Gordy's family, innocent people who lost their lives for being in the wrong place at the wrong time. Gordy's only consolation for the loss of his family is the hope that the Wolf will be stopped before he has a chance to strike again. When the official U.S. investigation into the Wolf stalls, Gordy realizes that bringing the terrorist to justice is no longer a priority to anyone but himself. Gordy heads to war-torn Colombia to track him down alone.
News & Interviews for Collateral Damage
Critic Reviews for Collateral Damage
Audience Reviews for Collateral Damage
In this complex revenge Schwarzenegger outing, we find Gordon Brewer, an ordinary man whose family has been killed by terrorists. We then learn many things that happened before the attack and begin to wonder who is also working with the terrorists. This is the only real twist throughout the film. It is definitely not original and the characterizations are more than likely slapped together, but the action is pretty awesome and the subtle moments between characters is very refreshing. I thought it was extremely cliche and made me role my eyes when I found out that they decided to take the route of seeing a family that looks like his own in order to make the plot work. Overall, "Collateral Damage" is not a bad movie, in fact, it is a lot of fun, but in the end, it's just another average action flick that nobody will remember. It was okay!
½
Collateral Damage is a decent action film, but is predictable and uses plot elements from other, better films to create this story. I was entertained watching this film, but I felt that the film could have been much better. I felt the film was fairly predictable, and that some of the action scenes were derivative. Collateral Damage is a decent action film, but it doesn't try anything new or exciting. The film has potential to be an effective and great action film, however halfway through, the film falls apart slightly, and it becomes predictable. The script suffers from, being predictable and the film ends up being a bit boring. The film had the potential to be a strong action film, but it uses a watered down predictable formula to create its story and thus you lose slight interest in the film. Collateral Damage is a decent action film that does entertain, but it could have been done much better. Arnold Schwarzenegger has done far better action films than this, and though he delivers on-screen, his performance doesn't elevate the film from being a decent film to a good film. Collateral Damage is a decent action, but it never does anything really interesting, and that's a shame because the film had so much potential for being something great Collateral Damage is overall, a decent time waster that could have done much better, but for what it is, it's far from bad but it's clear that the film could have been done much better than this.
Guns - Tick. Explotions - Tick. Ridiculous series of events - Tick. A typical post 1990's Schwarzenegger film riding the success of previous years - No Tick. Collateral Damage hits all the right current affair notes with acts of Terrorism and the innocent people that this effects. While it descends into classic Schwarzenegger, him taking down the entire group of Colombian Terrorists in their own back yard without any guns, knives or pointy sticks its the beggining that grabs you and the emotional involvement as his character deals with the loss of his wife and child. Lots of surprises and worth a watch, if only for Arnolds impersonation of a German ... "I'll show you collateral damage! "
Christopher Alcock
Super Reviewer
Collateral Damage Quotes
There are no approved quotes yet for this movie.