Planet of the Apes
(2001)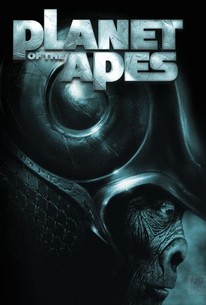 TOMATOMETER
AUDIENCE SCORE
Critic Consensus: This remake of Planet of the Apes can't compare to the original in some critics' mind, but the striking visuals and B-movie charms may win you over.
Planet of the Apes Photos
Movie Info
This big budget "re-imagining" of the 1968 original departs somewhat from both that classic science fiction film and the source novel by author Pierre Boulle. Mark Wahlberg stars as Leo Davidson, an astronaut of the early 21st century whose unauthorized mission to rescue a chimp companion from a mysterious space storm goes awry when he and his ship are lost through a rip in the fabric of time. Leo crash-lands on a planet where intelligent, talking apes are the dominant species and humans a conquered slave class. Befriending both a chimpanzee activist named Ari (Helena Bonham Carter), who's sympathetic to humans, and a beautiful human rebel, Daena (Estella Warren), Leo quickly becomes a prominent figure of resistance to his fellow humans. This makes him an instant source of irritation for the militant and ambitious General Thade (Tim Roth) and his trusted adjutant, Attar (Michael Clarke Duncan), who intend to hunt Leo down and crush the burgeoning human uprising. War looms between ape and human as Leo and his band head for a sacred site deep in an off-limits desert, where secrets about the planet's ape and human ancestry wait to be revealed. Planet of the Apes is directed by Tim Burton and features the original film's star, Charlton Heston, in a cameo role as the dying father of Thade. ~ Karl Williams, Rovi
News & Interviews for Planet of the Apes
Critic Reviews for Planet of the Apes
Audience Reviews for Planet of the Apes
½
Now I will admit I love Tim Burton and most of his work but I too was shocked and fearful of his agreement to take the helm of this sci-fi action flick revamp/re-imagining. Many directors were considered and to be honest I think many of them would have been perfect for the film but Burton does add his usual unique artistic style which can be glimpsed throughout the film in armour design, landscapes sets etc.. So straight to the point I actually liked this Burton version of 'Apes' mainly because its a fun romp which is both silly entertaining cheese and has that classic semi serious sci-fi element to it. First up the visuals in the film are tremendously good and really make the film stand out, total kudos to Rick Baker and his team, the man totally nails the ape look for all the characters to a tee. The best clearly being Roth as Thade with a fantastic makeup job, next up must be Duncan in his gorilla makeup but how about Shadix and Giamatti in their orangutan (I think) makeup...amazing! The film wins with the look for sure, not only is the makeup excellent but the sets are nicely worked, location is well suited, the apes costumes and battle gear is well designed and the space sequences also look and work well. All in all its pretty much like a top class Star Trek film...I mean a good Star Trek film by the way. Casting choices were good accept for Wahlberg who wasn't quite right for me. Thankfully we had no Depp to endure here but the use of many solid character actors such as Warner and the imaginative use Tagawa really help lift the film, who could imagine Tagawa as a gorilla. I really enjoyed the film on my second viewing, my first was on release at the cinema, and I believe its because the 'Apes' classic plot can be made many ways and is open to interpretation from different angles, its not a case of it only works one way like a lot of classic films, 'Apes' is a franchise that you can seem to mould and recreate without upsetting the originals. This Burton vision is simple yet highly enjoyable as a fun sci-fi romp, not too heavy, not just copying the original, touch of artistic license and the attempt at a twist ending which was brave but rather illogical, trying to equal the original but failing there I'm afraid. Still the little use of CGI for much of the film is always nice in my book.
Phil Hubbs
Super Reviewer
What a way to kill the mood set by the original franchise. Tim Burton's remake of the "Planet of the Apes" is not just a bad movie, but it totally ignores anything that happened in the previous versions, and makes a plot so inconsistent and incoherent that I just did not care what happened to any of the characters in the end. Mark Wahlberg as the only thing that intrigued me to watch it, and turns out, he is actually one of the worst parts. The only thing commendable about this film is the prosthetics and make-up work that is definitely Oscar-Worthy, but too bad it's in one of the worst remakes of all time. This review is more of a rant than a review, but there really is not very much good to say about it. This movie is all kinds of bad and I was bored for the full two hours. If you think you need to watch this film, do it knowing what you are in for. I hate this movie!
Watched this again, for the first time since it came out, now that I've seen the original, and now my fascination with this franchise will have to delve even deeper, to the source material. I'm not sure if Burton & Co. worked from the novel, but this is a wildly different film than the original, and I liked it much less. The original's themes, particularly those that had to do with the possession of knowledge and the ethics of science, have been replaced by cheap suggestions of racial profiling... and instead of an insistent doctor, the ape sympathetic to the humans' plight is a generic revolutionary, complete with military surplus-style coat. I have to acknowledge the excellent end scene - I won't spoil it, but suffice to say it's hard to measure up to the original's - and the early line, "Get your hands off me, you damn dirty human," which was playful, but this film doesn't even have the B-movie charm. It's lazy action that's too long, complete with a too-epic Danny Elfman score, and it does a disservice to decent acting by, among others, Tim Roth and Helena Bonham Carter. Finally: why was Dr. Zaius basically written out? This adaptation came out around the same time the Republicans regained power in the U.S., and I wonder if the replacement of the catholic-esque philosopher king Zaius by the power-through-might Thade in this version was to direct our eyes in that direction...? In any case, it's an adaptation interesting enough to generate discussion, but that doesn't mean I enjoyed watching it. Without question, the original will outlast this remake.
Daniel Perry
Super Reviewer
Planet of the Apes Quotes
There are no approved quotes yet for this movie.