The Animal
(2001)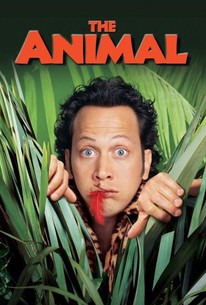 Movie Info
Former Saturday Night Live cast member Rob Schneider stars in this comedy as Marvin Mage, a wimpy nebbish whose lifelong dreams of becoming a police officer are thwarted by his diminutive stature. But when Marvin is critically injured in an auto wreck, deranged scientist Dr. Wilder (Michael Caton) uses various animal body parts to save his life, leaving the patient with the stamina and physical skills of the organ donors. Marvin quickly gains fame as a supercop, but he's also left with all of the embarrassing animal instincts and urges that accompany his new powers -- a serious threat to his blooming romance with new girlfriend Rianna (Colleen Haskell). The Animal co-stars John C. McGinley, Edward Asner, Norm Macdonald, and Cloris Leachman. ~ Karl Williams, Rovi
Critic Reviews for The Animal
Audience Reviews for The Animal
The Animal is yet another pointless Rob Schneider comedy that has maybe three actually funny scenes in the entire film. Unfortunately for Schneider, he's a terrible comedian. This film is awful and it's beyond me why this crap got made in the first place. I though that this film was awful, and is one of those comedies that really doesn't stand the test of time. This is the type of comedy film that has poorly constructed jokes and that it really doesn't do anything memorable. The film is just an excuse for Rob Schneider to have a "career" in films. This is so poorly constructed, poorly plotted, yet the idea was pretty interesting. If the script would have been reworked and the jokes better though out, and with a different lead, this might have been a good film. But this film ends up being a big waste of time, and get tiresome after a while. The film rides on one joke practically for the entire length of the film, and it just doesn't cut it. I think that this film should never have been made, and looking back ten years since this crap was made, there have been far better comedies than this. The Animal is one of those comedies that are meant for people who don't want intellectuality to their comedy, it's a mindless one joke film that is so bad, and it can easily be regarded as one of the worst comedies ever made. Even the first two Pauly Shore outings (Encino Man, and Son in Law) brought more laughter than this, and that says something about this train wreck of a film.
½
I laughed a lot, and that's the best I can say about this. It's sporadically entertaining, but still lacks what most Happy Madison films do; a decent script.
Matt Goodman
Super Reviewer
Dead Angel
Super Reviewer
The Animal Quotes
There are no approved quotes yet for this movie.