Angel Eyes
(2001)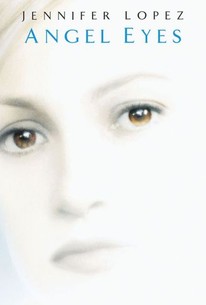 TOMATOMETER
AUDIENCE SCORE
Critic Consensus: Though the earlier part of the movie suggested something more, the movie turns out to be nothing more than a schmaltzy romance.
Movie Info
Jennifer Lopez stars in this gritty, emotional drama as police officer Sharon Pogue, who covers up a painful past with an anger that fuels her job performance in one of Chicago's toughest precincts. Although her partner Robby (Terrence Howard) is concerned about Sharon, she won't confide even in her closest friend. Sharon's life takes a turn, however, when she's saved from a violent assault by Catch Lambert (James Caviezel), a haunted, enigmatic do-gooder whose guardian-angel deeds make him a hero to some, like disabled shut-in Elanora Davis (Shirley Knight). Sharon becomes romantically involved with Catch, with whom she has more in common than she imagines, as Catch is also tortured by a painful, traumatic event from his past. Angel Eyes, which is directed by Luis Mandoki and written by Gerald DiPego, co-stars Sonia Braga, Alfonso Arau, Jeremy Sisto, and Victor Argo.
Critic Reviews for Angel Eyes
Audience Reviews for Angel Eyes
½
Honestly I was expecting more of a thriller. I guess I didn't read the description properly. I actually don't mind Jlo as an actress, so I'm surprised I didn't like this much. The big trauma was pretty standard.
Nicki Marie
Super Reviewer
A truly terrible movie in every sense, it had no idea what it wanted to say or why it existed. The sci-fi element just came out of nowhere and felt extremely odd. The performances were terrible, Jim Caviezel and Jennifer Lopez had zero chemistry and couldn't survive on their own either. It's ultimately a love story that no one wants to see.
Conner Rainwater
Super Reviewer
½
I thought that the movie started a bit too slowly, but it did gain a nice bit of momentum as it progressed. Jennifer Lopez portrays Sharon Pogue, a tough talking Chicago cop who is torn by her damaged relationships with her family and ends up falling for a guy who saves her life. She becomes obsessed with trying to discover his secrets, and, in turn, learns acceptance and together, they battle their inner demons. Jim Caviezel is excellent, as always. He is a gorgeous man; startlingly in touch with the emotions and depth of feeling his character required. As for the movie itself, it has nothing new or interesting to offer, and its "twists" are only in the minds of the screenwriters. This is a romantic drama about two people who learn how to trust each other and themselves cope with their past and take the risk of a new start. Worth looking at least once in your lifetime!
Angel Eyes Quotes
There are no approved quotes yet for this movie.