Hannibal
(2001)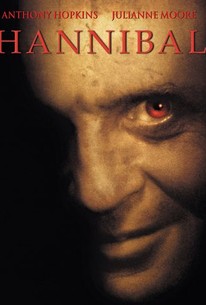 TOMATOMETER
AUDIENCE SCORE
Critic Consensus: While superbly acted and stylishly filmed, Hannibal lacks the character interaction between the two leads which made the first movie so engrossing.
Movie Info
Ten years have passed since Dr. Hannibal Lecter escaped from custody, ten years since FBI Agent Clarice Starling interviewed him in a maximum-security hospital for the criminally insane. The doctor is now at large in Europe, pursuing his own interests and savoring the scents and essences of an unguarded world. But, Starling has never forgotten her encounters with Dr. Lecter, and the metallic rasp of his seldom-used voice still haunts her dreams. Mason Verger remembers Dr. Lecter, as well, and is obsessed with revenge. Verger was Dr. Lecter's sixth victim, and though hideously disfigured, has survived to rule a vast financial empire. Verger soon realizes that in order to draw the doctor out into the open, he must use someone Lecter cannot resist as bait: Clarice Starling.
News & Interviews for Hannibal
Critic Reviews for Hannibal
Audience Reviews for Hannibal
It is a pity that the psychological complexity of the previous film gives place to a bloated and not so engaging cat-and-mouse game that lacks the chemistry between the two characters and has a rather frustrating ending, being only worth it because of Lecter.
Carlos Magalhães
Super Reviewer
½
Minding his own business over in Florence, Italy, Dr. Lector soon finds his own fame intrusive to the type of quiet lifestyle he wishes. Hopkins obviously loves his doctor but is not really given enough to work with (lacking the presence of Buffalo Bill) other than a curious but very interesting relationship with Starling. Julianne Moore (despite my love affair with J. Foster) does well as our brave FBI agent. G. Oldman joins the cast for mere shock value.
Kevin M. Williams
Super Reviewer
Hannibal Lecter: On a similar note I must confess to you, I'm giving very serious thought... to eating your wife.  "Break The Silence" This initially sounds like an amazing movie. Hannibal is another Hannibal Lector film with Ridley Scott at the helm, Hopkins as Hannibal, and Julianne Moore as Clarice. Gary Oldman even appears, more or less, as the only surviving victim of Lector's. It's not to say that I didn't get a fair amount of enjoyment from Scott's Hannibal, but I was unsatisfied nonetheless. I didn't necessarily expect a masterpiece, but I did expect a movie better than this one.  Hannibal seemed incredibly goofy at times, while staying with the atmospheric seriousness of The Silence of the Lambs for the most part. Hans Zimmer delivers a great little score to bring out the tension that a movie with Lector in it deserves. That's one reason why I have a hard time totally dismissing this film. There was a relative amount of tension all the way through. It wasn't to the degree of Silence, but it was there.  In this Hannibal tale, Hannibal is living in Italy as Clarice deals with problems after a drug raid goes haywire. Also Hannibal's only surviving victim has a plan up his sleeves if he can ever get at him. The FBI decides to put Clarice back on the Lector case. The plot was a little messy in this film and things mostly felt either rushed or entirely too slow.  I realize I'm not talking this movie up much, but it at least deserves a look for Hopkins as Lector again. His performance isn't his Oscar winning one from Silence, but it's still good. Had he had a slightly less obvious, more subtle, and smarter script to work with; who knows what we'd be saying about Hopkins as it pertains to this movie. Too bad that isn't the case.  As it is this was worthwhile film for me. I still enjoyed it despite its many, many faults and the fact that Ridley Scott didn't deliver what was expected. I can pretty much guarantee you will be disappointed in the outcome of this movie if you have seen Silence. If you haven't seen Silence, go watch it. That's a priority. Hannibal is just a shock hungry film that holds on to just enough of the originals formula to be a minor recommendation.
Melvin White
Super Reviewer
Hannibal Quotes
There are no approved quotes yet for this movie.