The Revengers' Comedies (Sweet Revenge)
(2000)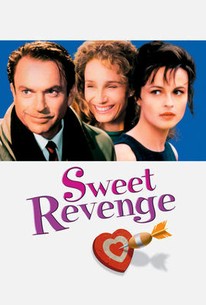 AUDIENCE SCORE
Critic Consensus: No consensus yet.
The Revengers' Comedies (Sweet Revenge) Photos
Movie Info
Telecast on American cable television as Sweet Revenge, this wickedly black comedy was produced for British TV under the title The Revengers' Comedies, which was also the name of the Alan Ayckbourn play collection upon which it was based. Late one night on London Bridge, two potential suicides meet. Henry Bell (Sam Neill) is a midlevel executive who has been unfairly fired by his office rival; Karen Knightly (Helena Bonham Carter) is a nutty heiress whose boyfriend has jilted her in favor of a bitchy American beauty. Forsaking their plans to kill themselves, Henry and Karen go the Strangers on a Train route by agreeing to "swap" revenges: Karen will dispose of Henry's enemy, Bruce Tick (Steve Coogan), while Henry will destroy Karen's bête noire, Imogen Saxton-Billing (Kristin Scott Thomas). A U.S./U.K./French co-production, Sweet Revenge made its official debut over America's Showtime network on September 24, 2000. ~ Hal Erickson, Rovi
Critic Reviews for The Revengers' Comedies (Sweet Revenge)
All Critics (3) | Fresh (2) | Rotten (1) | DVD (1)
[A] delicious example of British humor that manages to be both over the top and understated at the same time. A must for fans of cheeky, topsy-turvy comedy.
Audience Reviews for The Revengers' Comedies (Sweet Revenge)
Wacky, dark comedy with an incredible cast.
½
Don't have much to say about this film really. I always say that then I end up writing a 10,000-word essay on the film. But I digress, Sam Neill does his best Hugh Grant impression in this fairly decent rom-com. It has its moments, much like any film, but this is a dark comedy that lacks the dark comedy. It certainly tries to be dark, but I think it's just a superficial facade. Something to give it an edge that it probably needed to set itself apart from the pack. When I think of this film I'm reminded of another "dark" comedy in Undertaking Betty. That film is much the same as this one, its "edge" is just a facade. Granted, I enjoyed this film slightly more than I did Undertaking Betty. It's just got a quick pace, this movie won't overstay its welcome, and the cast is good all around. I won't complain about that. But, and perhaps this is the film's biggest issue, is that everything just feels so one-dimensional. From the plotting to the characters, there's just nothing about this film that has any real depth. Karen has an interesting back-story, but it's not something they devote a lot of time to. It's clear there are some psychological issues there that could've been explored in a subversive manner. But that's just me, I don't know about anybody else. This movie is so intent on coming across as a dark comedy because it's really everything but. At the end of the day, this is a light rom-com that is trying to pretend to be something it is not. You see right through it immediately. Perhaps if they were upfront about it I wouldn't have much of a problem. I'm a big fan of Love, Actually and that movie is one of the lightest, breeziest films you will ever see. I don't have any problem with that, but this idea that this is a comedy with dark themes is just absurd. I really didn't think the film was that bad, but I imagine the cast had a lot to do with that. I don't think I would've been impressed with the script if I had read it beforehand. It's something that had to be elevated past its very low ceiling by a talented cast. And, by and large, the cast does elevate it. It elevates it to an average status. It was a double instead of a home run. Easy enough to watch, but nothing you will remember in a day.
Jesse Ortega
Super Reviewer
The Revengers' Comedies (Sweet Revenge) Quotes
There are no approved quotes yet for this movie.