Possessed
(2000)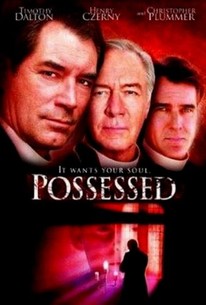 AUDIENCE SCORE
Critic Consensus: No consensus yet.
Movie Info
This made-for-cable drama was adapted from the true story of the only exorcism sanctioned by the Catholic church to be performed in America in the 20th century. Father Bowdern (Timothy Dalton) is a Jesuit priest and military veteran still dealing with the emotional traumas of World War II as he tends to his flock in St. Louis in 1949. A strange case comes to Bowdern's attention -- a boy named Robbie who has strange markings on his body and appears to be under the influence of some otherworldly spirit. Robbie's family believes the child has been possessed by a demon, and in time Bowdern agrees. After receiving the consent of the Vatican, Bowdern attempts the torturous process of casting out the demon, which proves to be as much a test of his own powers as those of the devil. Possessed also stars Piper Laurie, Christopher Plummer, and Henry Czerny.
Audience Reviews for Possessed
This isn't one of the best horror movies out there, but it sure is an extremely entertaining well made for television film. I first saw this movie when they premiered it on Showtime around the Halloween season back in 2000. I had heard of this film months before they aired it, which got me even more psyched to see it, and I even did a little research on it. From what I've heard this movie was based on the actual 1949 case of a Maryland boy which inspired "The Exorcist", and everything that I read on the computer showed that this was indeed true. So for anyone out there who wants to get an idea of what really happened on the actual case, I suggest you go and see this movie. The True Story: "It began in Maryland on the evening of January 15, 1949, when 14-year-old "John Hoffman" and his grandmother heard strange scratching and dripping noises in their house. No explanation could be found for the noises, which stopped after ten days, only to be replaced by mysterious footsteps and drumbeats. After John's Aunt Dorothy suddenly died, the poltergeist-like phenomena increased - with John's mattress shaking violently, food flying through the air and furniture falling over. John and his parents tried to communicate with the poltergeist, which at the time claimed to be the spirit of Aunt Dorothy. Then, in late February, livid red marks emerged on John's skin, taking the shape of actual words. After neither physicians nor psychiatrists could find anything wrong with John, his parents, although Lutheran, consulted a Roman Catholic priest. His recommendations of prayers and holy water only seemed to aggravate John's condition. John's mother took him to St. Louis, hoping things would calm down. But the manifestations intensified. "Father Lawrence," a Jesuit priest, came to visit John in St. Louis, saying prayers over him and pinning two crucifixes under his pillow. After he left, one crucifix propelled itself across the room and the other moved to the foot of the bed as the bed shook violently. On March 16, the Archbishop of St. Louis gave Father Lawrence permission to begin the formal rite of exorcism. During the first night of the ritual, marks appeared on John's skin 30 times -- including the word "Hell" and a portrait of a Satanic visage. The 45-minute ritual was performed several times a night over the next week. John's responses became increasingly rabid, including screaming torrents of profanity and foreign words, violent seizures and uncontrolled urinating. With the parents' permission, John was converted to Catholicism. But his responses to the rituals only became worse. The disturbances suddenly stopped on March 26. Father Lawrence believed John's possession was over. However, they began again on March 31, with John's behavior during the rituals getting even more violent. "I am always in him," the demon said through John's lips. After more days of no progress, Father Lawrence read about an 1870 case of possession that provided a key to exorcising the demon. On the night of April 18, he forced John to wear a chain of religious medals and hold a crucifix in his hand during the exorcism ritual. When Father Lawrence commanded the demon to declare itself, John exploded in a violent spasm of amazing strength, needing five men to hold him down. At 11 p.m., John suddenly interrupted the ritual by shouting, "Satan! I am St. Michael. I command you, Satan, to leave his body now!" After then enduring the most violent spasms yet, John uttered, "He is gone" and suddenly returned to normal, breaking into a smile." William Peter Blatty, then a student at Georgetown University, read about John's story in the newspapers. The story stuck with him and 20 years later he fictionalized it to create "The Exorcist." The acting in this isn't all that great and this movie doesn't come close to being as good as The Exorcist, but trust me, this is a very entertaining and edifying movie. This film has R rated material but mainly for subject matter alone, don't expect any gore or anything like that. Also, don't watch this and expect anything like The Exorcist either because you will be disappointed if you do. Understand that this was made for television and it does have the occasional made for TV cheese, but it's always fun to watch and yes, there are some truly creepy ass moments as well. You should definitely see this movie, it's very well made and plus it's very interesting to see what actually happened to the real boy. I recommend it.
jd cryptic
Super Reviewer
Possessed Quotes
There are no approved quotes yet for this movie.