Blow Dry
(2001)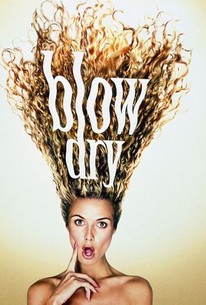 Movie Info
Two beauty salons in the small English town of Keighley are locked in a heated rivalry over the National Hairdressing Championships. Local hairdresser Phil was once the golden boy of the competition until his wife and model Shelly left him and their son Brian to set up shop with her lover Sandra. Retired from the scene, Phil wants nothing to do with all the excitement surrounding the beautiful and stylish crowd that has flocked to the town. However, as the preparations for the big event begin to unfold, it becomes clear that the out-of-towners aren't playing by the rules, so rivals Phil, Shelly and Sandra must put aside their differences and team up to put their town back on the map and their family back on track.
Critic Reviews for Blow Dry
Audience Reviews for Blow Dry
an entertaining enough movie, thats funny, enjoyable , and a good enough storyline thats bound to make you love this movie! the yorkshire accent is kinda annoying but bearable with bill nighy and alan rickaman making the film that much more enjoyable to be honest! a good enough movie that doesnt offer much but still worth the watch, not my favourite alan rickman movie but it'll do!!
Film Crazy
Super Reviewer
Another one of those movies where I was expecting a comedy based on the previews. It almost made me cry a few times! And Josh Harnett's British accent was kinda terrible, he should stick with drama. It was pretty ridiculous though and a fun movie.
½
So it's a comedy about hairdressing. In truth, the hairdressing provides little more than colour commentary (pun intended), because it's the relationships that take first stage, and they take it really well. Alan Rickman is good, sincere and has depth, Josh Hartnett has an okay delivery ruined by his trying-too-hard faux Yorkshire accent, and Bill Nighy is Bill Nighy, you'll always get a few laughs from him, but the real stars are Rachel Griffiths and Natasha Richardson. Griffiths, in particular, is splendid, going from funny to poignantly hurt to deep, deep love without skipping a beat. Richardson also makes a strong impression, and you can feel the pain in her as the film goes. Oh well... It's a fun film, but it's also a good film.
Cassandra Maples
Super Reviewer
Blow Dry Quotes
There are no approved quotes yet for this movie.