The Art of War
(2000)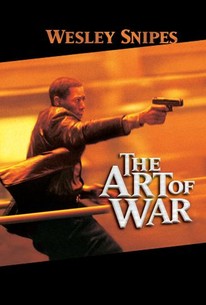 TOMATOMETER
AUDIENCE SCORE
Critic Consensus: Excessively noisy and overly reliant on genre clichés, The Art of War wastes its star's charisma on a ridiculous, convoluted plot and poorly edited action sequences.
Movie Info
Ruthless terrorists are threatening to bring down the United Nations. They frame the one man they believe can stop them - an international security expert named Shaw. Now he must run from his own allies and become a solitary force for good, as he tries to stop what could become World War III.
Critic Reviews for The Art of War
Audience Reviews for The Art of War
½
it has its moments of fun action but the story is a mess. by the end you'll wish you had chosen something better then this
Brendan O'Connor
Super Reviewer
½
After watching it AGAIN, I still think everyone treated this movie unfairly. Its not perfect, but I guess this movie did really kickstart the intelligent spy genre, leading to movies like the Bourne Seires and others. i hold this in regard for that fact, also giving a stronger martial arts aspect to the movie and themes like betrayl and politics. Snipes plays a covert UN Agent whose job is to assist the UN on issue which are deemed "necessary" - from espionage to outright blackmail, which is evident in the introduction . I think people kept on saying the plot was confusing and noone understood what was going on. Sorry people, but you're a little silly, you obviously know what "The Art of War" is, and its no mystrey why a movie is titled so. It becomes FULLY clear in the climax when things are explained through some smart dialouge - and the plot was simple really, the method of execution complex, but high effective... the only problem being is Snipes was learning quick that someone was forcing him to chase shadows and false leads and he was the bait. Anyways, if you're wondering why its so confusing, because Snipes' character is supposed to portray confusion and helplesness in being cut off and abandoned, with Chinese gangsters, police and the FBI hot on his heels. If you're confused, good, watch it again and try to put the pieces together like a jigsaw puzzle - every scene, every image has a meaning, it does take some concentration. Though its not 100% perfect, it was a matter of a new style of filming and idea which never really reached the full potential until The Bourne Identity and its successors kicked ass at the box office. It also interesting to see things like new technology back in 2000, like touch screen PDA's and wireless internet which only became consumer friendly in 2005, 5 years from when the movie was released. Anyways, the action is slick, the cast above average, i think Michael Biehn was the standout support. The final fight scene was expllosvie and smoother than your average, something unqiue and obviously set the trend. Anyway, I think a lot of movies afterwards really borrowed something from The Art of War, and I believe a lot of people canned it because of the Snipes name and the fact it was mainly a European production and Indie movie release. Well, if you like movies like this and wanted to see where it all started for the new millenium, this is the one to watch.
Wesley Snipes has never been better, one of his best roles in one of his best action films. A stylish, nail-biting, pulse-pounding twist-a minute action-packed thriller. A sensational and adreniline-pumping action-thrill-ride that kick starts the senses and kicks all sorts of ass. It's sharp, very smart and very entertaining.
The Art of War Quotes
There are no approved quotes yet for this movie.