George Washington
(2000)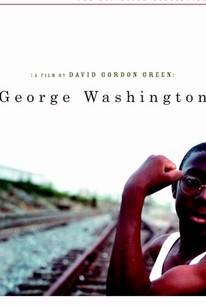 Movie Info
George and his adolescent friends all live in a poor North Carolina suburb, where the only jobs available are at a local salvage yard. Tragedy strikes when one of George's friends is accidentally killed and the group, fearing punishment, decides to hide the body.
News & Interviews for George Washington
Critic Reviews for George Washington
Audience Reviews for George Washington
½
Nasia: Sometimes I smile and laugh when I think of all the great things you're gonna do. I hope you live forever.  "down this twisted road, please watch over my soul and lift me up so gently so as not to touch the ground." David Gordon Green's debut feature, George Washington, is immensely different from the films he's been putting out for the last few years. He's been putting out stoner, sex comedies like Pineapple Express, Your Highness, and The Sitter. George Washington couldn't be less like those movies. It is as far away from comedy as you can be. It's a slow and sad film from a child, Nasia's, point of view. She narrates the story of George, and how he and a couple of friends accidentally killed their friend Buddy. From that point on, these kids aren't really kids any more. The innocence of childhood has left them. If you want poignant storytelling, George Washington is your film. It's a movie where you can feel for a character, that something awful has happened to. George isn't a bad, rebellious youth, as a lot of these types of films use. He's a good kid, who is in a poor area, around other poor kids. He has a disease that doesn't allow him to get his head wet, and a little bump on the head could kill him. He's limited in what he can do with his friends.  You can feel the scene where everything turns about five minutes before it happens. When the scene is occurring, you know this is where the tragedy is going to occur. David Gordon Green does the tragic scene the realistic and proper way. Stuff like this doesn't occur like it does in most movies. There's no suspenseful music before hand, there's no slow motion while it's going on, there's no crazy freakout rant afterwards. When a tragic event occurs, you are stunned, and you do what these kids do. You sit down on the ground and stare, until one of you can get up the courage to make a decision what to do next. I can best describe this Indie movie, by saying it resembles the same feel of a Gus Van Sant indie. There's a bunch of no name actors, that don't really try to act. They perform like real people. They occasionally will make mistakes when they talk and stutter over words, trying to find the right thing to say. Gus Van Sant did Paranoid Park like six or seven years after this, and the two are quite alike. Paranoid Park went a different route in the aftermath of the accident, but the lead up is a lot alike.  George Washington isn't a film that is for everyone. You may end up finding it too slow or too boring. You may feel that it doesn't quite go anywhere plot wise. But if you like understated, subtle dramas, give it a watch. It just may blow you away.
Melvin White
Super Reviewer
½
A startling poetic film.
Graham Jones
Super Reviewer
½
Strongly reminiscent of Jarmusch, only much more youthful and a little more concerned with creating a publicly digestible style. This looks, sounds and plays like a pretty typical indie of the time (and at $42,000, you'd damn best believe this is an indie), but though you could probably fault him for his originality his taste is impeccable. The exploration of impoverished, rural black youth and the heavy wall-of-sound mood are two great tastes that taste great together. This was reiterated by Half Nelson six years later, which I wasn't quite as taken with but which I often feel I owe a second chance. Nothing in George Washington jumps off the screen, but it's wistful and humorous and sometimes depressing, and makes for a bizarre and generally effective coming of age story. The acting is naturalistic and fits in well with the at-all-costs realism of the filming, amateurish line flubs and all. I don't feel that most of the characters ever truly come alive - George comes close, but in the end remains a mystery, as I'm sure he'd like to be. Like Aronofsky and Nolan, it's easy to see why this inspired confidence in David Gordon Green's future investors; the man can take a dime and turn it into treasure. Definitely worth watching.
Drew Smith
Super Reviewer
George Washington Quotes
There are no approved quotes yet for this movie.