The Bachelor
(1999)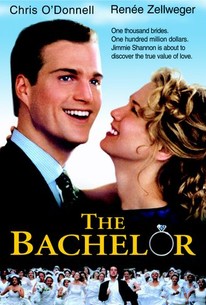 Movie Info
Jimmie Shannon values his freedom more than life itself. As his male peers, even his best buddy, Marco, begin to hook up in marriage, Jimmie continues happily plugging away with his dating lifestyle, in no rush to find "the one." When he least expects it, Jimmie crosses paths with the adorable Anne and falls in love. After a three-year relationship, Jimmie feels the pressures of commitment and decides to "give in", reluctantly proposing to Anne at the most romantic of restaurants. Sensing his uncertainty and angry over his botched and lame attempt at a proposal, Anne dumps Jimmie back into the town known as "Bachelorville." Shortly thereafter, Jimmie's grandfather passes away and wills a $100 million inheritance to his grandson, on the condition he marries before his thirtieth birthday, which is less than twenty-four hours away...
Critic Reviews for The Bachelor
Audience Reviews for The Bachelor
½
I saw it in the middle of the day....and that's it rightful place....if you see it in the middle of the night...it would probably suck pretty bad....but hey...you can't turn down chris o'donnell
Martin Sahlin
Super Reviewer
Tim Salmons
Super Reviewer
Batman`s Sidekick. Unlike his role as Robin, I like watching Chris O`Donell other Movies. This Movie is like a Fun Slide so are we Singles. lol It was nice to see he didnt want to marry the girl because out of Egoistical reasons. In my opinion this is not really a typical Chick Flick. I think guys will enjoy it too. Great Cameo appearence by some great singers and actress. I like the tiny bit with Brooke Shields. alot of lolsThe Scene where he(Chris O`Donell)decides to rest in the church and awakens to find hundreds of brides waiting for himreminded me of the Dummy of Jeff Dunham: Achmed the Dead terrorist and HIS 72 Virgins. Must have been heaven for Achmed. lol Fav bit and a beautifull Scene Jimmie runs up the street, climbs a fire exit ladder and shouts for Anne. With the would-be brides, Marco and Jimmie's colleagues in hot pursuit, the priest then conducts the service over the police loudspeaker from inside a police car as brides attack the car. Anne convinces them to be happy and let it be her day. They cheer and everyone has cake. Marco gets a surprise when he finds his wife joined the crazy brides, but they're OK with it. The clock strikes 6:05 p.m. and all is well...until the bridal bouquet is thrown for another couple.
The Bachelor Quotes
There are no approved quotes yet for this movie.