Tumbleweeds
(1999)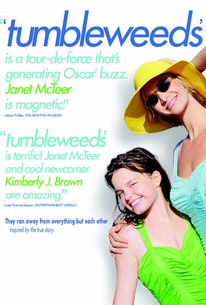 Movie Info
In its keenly observed account of a woman perched at the crossroads of life and self-realization, Tumbleweeds crystallizes the manifold impressive talents of Gavin O'Connor. Culling his narrative from the dusty backwaters of the working-class South, O'Connor delivers characters nuanced with frailty and defiance and a tone that ricochets between savagery, humor, and compassion. As in that memorable road movie Thelma and Louise, what results is a beautiful, offbeat romance about two individuals discovering sisterhood and the path to self-definition. Notching up yet-another ex-husband, abuse, and disappointment, Mary Jo grabs her meager possessions; her feisty, foul-mouthed daughter, Ava; and her tattered shards of optimism and hits the road in search of a new love interest and support provider. After a former high-school prospect proves dismal, Ava convinces her mom to take a chance on life in the picture-perfect suburbs of Starlight Beach. But within weeks of settling into independence, Mary Jo reconnects with a truck driver from their travels and moves willfully into what seems like fated co- dependency. With Ava enrolled in school and experiencing for the first time a sense of normalcy and stability, Mary Jo wrestles with the impulse to run again, a decision that this time may devastate the bond between mother and child. Anchoring the film's impassioned naturalism are its breathtaking performances, led by 1997 Tony Award winner Janet McTeer. In this sensitive translation of Angela Shelton's childhood memoirs, O'Connor offers a compelling love story refreshingly devoid of sentimentality, cynicism, or cliche.
Critic Reviews for Tumbleweeds
Audience Reviews for Tumbleweeds
Although compared to Thelma & Louise in some write ups, Tumbleweeds ends up falling significantly short of that mark. Although McTeer's brief appearance as a "star" is memorable, it is a film that sticks in your mind momentarily and forgotten quickly.
John Ballantine
Super Reviewer
It's been a while since I've seen a good movie, and this proudly stept up to the plate. I was hooked by the second scene. The material is a little familiar, but not quite cliche. The acting is so genuine, fresh, and touching that you can't help but root for these two. There's an eerie undercurrent in the scenes with the boyfriend and the film doesn't shy away from Janet McTeer's character's deeply childish flaws I teared up during the motor home scene. Kimberly Brown and Janet McTeer give perfect performances. Aww....what a feel good movie.
Joey Nevarez
Super Reviewer
½
Great movie, and kudos to Kimberly on her role.
Leigh Ryan
Super Reviewer
Tumbleweeds Quotes
There are no approved quotes yet for this movie.