Mansfield Park
(1999)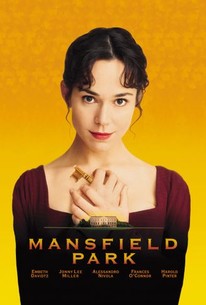 Movie Info
At the age of ten, Fanny Price is sent to live with wealthy relatives in Northampton Shire, leaving her impoverished family behind in Portsmouth. She has always known her debt of gratitude towards her aunt, Lady Bertram, and uncle, Sir Thomas. Her Aunt Norris, however, has always treated her as a servant and the preening Bertram daughters have always reminded her of her status. The youngest son Edmund has been Fanny's constant companion since her arrival at Mansfield Park. The arrival of the sophisticated brother and sister duo from London, Henry and Mary Crawford, sends the Park into a passionate upheaval as the daughters pursue Henry and Edmund is caught up in the rebellious spirit. Only Fanny refuses to fall under their spell. The fate of everyone at Mansfield Park is decided by an unspeakable scandal, and Fanny's patience is rewarded.
Critic Reviews for Mansfield Park
Audience Reviews for Mansfield Park
Someone who knows Jane Austen's life and has also an experience of her books or the movies based on them ,can realise one thing for sure , that her novels are also based on her own life ,somehow . But this movie has more realistic elements of her season .Also has more action than other scripts and that makes it believable and attractive. Of course the most attractive is Edmund ( Jonny Lee Miller)lol.
Maybe the best Jane Austen's adaptation ever made!
Eliza Norton
Super Reviewer
Great Jane Austen screen adaptation.
This was a really great adaptation..and had a great cast. It was good to see Johnny Lee Miller again. I would recommend watching Sense & Sensability though..it is a bit better.
Hogans Hero
Super Reviewer
Mansfield Park Quotes
There are no approved quotes yet for this movie.